NAPIER PUT ARBONNE BACK ON TRACK AFTER BK
Star Turn
Saturday, June 16, 2012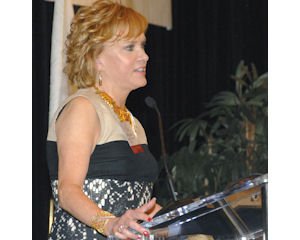 Privately held Arbonne does not disclose earnings; sales have held about steady in the wake of the bankruptcy, with revenue of $353 million last year down about 1% from a year prior.
New product lines helped the company move forward.
No Paralysis
"We didn't let the bankruptcy process paralyze the company," Napier said.
Getting back to growth has given Napier the chance to enjoy guiding Arbonne's culture.
"Teamwork is essential to our culture as a company, as it takes a multifunctional team internally to achieve important business goals and is the only way our independent consultants grow their business," she said.
Napier has two children and a creative side as a water color and oil painter that reflects her education. She majored in studio fine arts and economics at Georgetown University and holds an MBA in marketing and finance from Xavier University.
"My favorite painting experience was taking a course in the Loire Valley of France with my daughter where no one including the teacher spoke English, but he was the best instructor I ever had," she said.
Her daughter also has an artistic flair and works as a fashion designer for Michael Kors in New York City. Her son is a college student at Purdue University.
Big Family
Napier was raised in Cincinnati and is the second of 10 children.
"Being one of the oldest in a large family forced me to develop skills of resourcefulness, patience and persistence," Napier said.
Persistence is among the leadership qualities Napier counts as keystones, along with "integrity … vision and leading by example."
Napier said she is glad she never "succumbed to acting like a man" in order to make it to the top. Her advice to other women is to "be yourself, and fashion yourself after those with great leadership qualities, whether they be male or female."
Prev Next