NAPIER PUT ARBONNE BACK ON TRACK AFTER BK
Star Turn
Saturday, June 16, 2012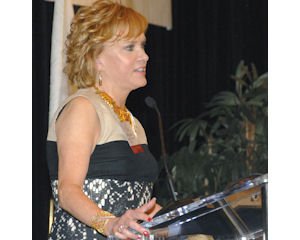 Kay Napier has worn many hats throughout her career.
Add "turnaround CEO" to the list.
Napier earned that distinction at Irvine-based Arbonne International LLC, which markets skin-care and other cosmetics through an independent sales force of 30,000 that accounts for annual revenue of about $350 million.
Napier was one of five local businesswomen honored at the Business Journal's 18th annual Women in Business awards luncheon June 5 at the Hyatt Regency in Irvine (see related stories, pages 6, 7, 8 and 9).
The honor came three years after Napier arrived at Arbonne after a 23-year career that started with Cincinnati-based Procter & Gamble and included four years as senior vice president of marketing for McDonald's Corp. in Oak Brook, Ill.
Napier arrived at Arbonne in August 2009. The company, which operated under the Natural Products Group LLC name, declared bankruptcy in January 2010.
She said she put aside her own fears and personal doubts to spearhead efforts to save the company.
"I applied everything I had learned in my past about putting your head down and getting to work to drive a positive outcome," she said.
Communication
Communication was key. Napier and her executive team produced a series of videos explaining the bankruptcy and what it meant to employees and independent salespeople, a group the company refers to as independent consultants.
She walked them through the bankruptcy process, which saw Arbonne trade debt for equity and made several banks the new owners of the company.
"I had to communicate why getting rid of the high level of debt would allow us to have a much brighter future moving forward, and that everyone would continue to get paid," she said.
Timing was just as important.
It felt like "watching paint dry," Napier said, but Arbonne emerged from bankruptcy in 37 days.
"The management team pushed hard to file and emerge before our global meeting with our independent consultants, so we could announce we were in the clear at that conference. We emerged about a week before the conference, so we had a lot to celebrate," Napier said.
The whirlwind performance got Napier a "Crack the Whip" award from the bankruptcy's leading law firm, White & Case LLP. More important, she said, was the trust she earned with the company's 600 or so employees and independent sales force.
"They didn't know me at all," she said. "I had to build trust that we were headed in the right direction, and that the future of the company was bright."
Prev Next