She Applies Business Best Practices to Nonprofit World
Saturday, June 16, 2012
Share this article: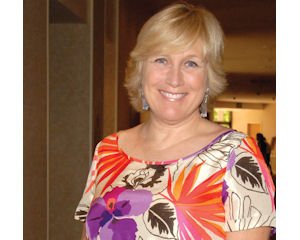 Nancy Nygren helps girls strive toward leadership roles and rewarding lives, drawing on her own experience and observations of the challenges for women in the business world.
"That's a big part of why I'm leading this nonprofit, because I want all girls to be instilled with the confidence that they can achieve whatever dreams they have," said Nygren, chief executive of Irvine nonprofit youth organization Girl Scouts of Orange County.
Nygren was one of five local businesswomen honored at the Business Journal's 18th annual Women in Business Awards luncheon June 5 at the Hyatt Regency Irvine (see related stories, pages 1, 6, 7, 8).
Girl Scouts of Orange County provides leadership development for more than 23,000 members from kindergarten through 12th grade. The organization is aided by 15,000 volunteers and is completely reliant on private funding.
Nygren oversees a staff of 65 people in the group's Irvine Spectrum-area office.
"I think it's extremely important that our staff, organization and our volunteers model the kind of leadership that the program is trying to instill into the girls," Nygren said. "Everything we do, I look for it to be a positive role model."
The council is a collaborative organization, and her role as the leader is to "lead both from the front and the rear depending on the need at the time," she said.
Resistance
Nygren added there was some resistance to certain organizational shifts she put into place.
"I was bringing a lot of change to the organization, and not everybody's comfortable with change," she said. "I embrace change, [so] to some degree I'm attracting a different kind of person [to the council]."
Nygren came to the organization in 2005 with a vision that nonprofit organizations must embrace and integrate corporate best practices in order to thrive. She replaced Jeanie Burns, who retired.
Nygren previously was chief executive of the Naval Training Center Foundation, a San Diego organization that redeveloped 30 acres of a decommissioned Naval Training Center into an arts and cultural center.
The Florida native got her nonprofit career started by helping lead an effort to build the Ocean Journey aquarium in Denver.
"I had been in the aerospace industry, managing large defense projects prior to that, and I was looking for my passion," Nygren said.
She eventually found Bill Fleming and Judy Petersen Fleming, animal trainers by background who were trying to get a big nonprofit aquarium built.
"And being a Florida girl, I jumped right in there and said, 'I've got some business experience; I can do the business half of this,' " Nygren recalled.
The $93 million Ocean Journey opened in 1999. Today it is known as Downtown Aquarium and is owned and operated by Houston-based Landry's Restaurants Inc., which bought it out of bankruptcy in 2003.
Nygren, who holds a degree in mathematics and computer science from Florida State University, worked in the aerospace industry prior to taking on the Ocean Journey job.
"The good news was that I brought a lot of transferable skills from the aerospace industry," she said.
Those included financial skills, working with and developing multifaceted business teams and business development.
"I understood through business development in the aerospace industry how to pitch and sell yourself," Nygren said. "So that is what I used to take me into the fund development arena."