Hard-Driver Says It's 'Not Really Moral' to Loaf
HONOREE JUGGLES CHARITY WORK, REAL ESTATE SALES, TENNIS
Saturday, June 16, 2012
Share this article: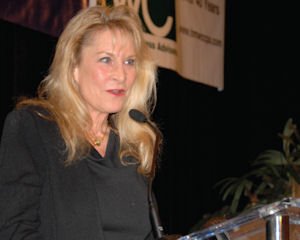 Lee Ann Canaday demonstrated her sales savvy while accepting her award at the Business Journal's 18th annual Women in Business Awards luncheon at the Hyatt Regency Irvine.
The real estate professional is co-chair for the Girl Scouts of Orange County's annual fundraising gala this fall, and she took the opportunity to let the crowd of nearly 1,000 know she's looking for donors and sponsors.
"I thought that was just terrific," said Nancy Nygren, chief executive of Irvine-based Girl Scouts of Orange County.
Nygren also was honored at the Women in Business event on June 5 (see related stories, pages 1, 6, 8, 9).
Girl Scouts is about developing girls into future leaders, Nygren said.
"Lee Ann's a real advocate of that," she said.
Nygren met Canaday at the Girl Scouts' fundraiser a few years ago.
"I introduced myself to her and asked if she was a girl scout," the organization chief recalled. "She said, 'Absolutely,' and then she proceeded to sing to me the Brownie Smile song. She knew every word of it."
That's Canaday: enthusiastic and passionate.
She works seven days a week between her real estate business, the Canaday Group, and her philanthropic efforts, but she tries to squeeze in tennis once a week.
"I wear a lot of hats, and if I don't work seven days a week, I can't get everything done," she said. "To me, if you don't work hard it's not really moral."
Math Teacher
Canaday made her way to real estate through teaching. She was an algebra teacher looking for a way to earn extra money.
"I couldn't make enough money teaching, so I got into real estate to supplement that void," Canaday said.
She started selling homes on the side in 1979. Then she started buying homes as rental properties.
Canaday originally planned on buying an apartment building, but she wound up buying houses instead.
She made four times her teaching salary in her first year selling real estate. She still rents her homes these days, and she's opening real estate offices.

Canaday licenses the Re/Max brand and recently leased a property on the water in Huntington Harbor for a new Re/Max Fine Homes. That's in addition to the Re/Max Fine Homes stores she has along Coast Highway in Laguna Beach and Newport Beach.
Canaday said she chose Re/Max because of its global presence with a presence in 90 different countries.
International buyers account for about $82 billion in U.S. home sales.
"I want a piece of the foreign buyers," Canaday said. "Re/Max is the perfect vehicle for that."
She also focuses on the short-sales segment through an office she maintains in Costa Mesa.
Canaday does all kinds of marketing, online and offline. She sells homes directly through her half-hour TV show that she's been doing since 1992 and which airs Saturday mornings on KDOC-TV.
"I was way before Flip that House," she said.

One of the things she's learned in her 30-plus years in real estate is to try to be prepared for the unexpected.
"The thing you learn is never to be surprised, and always to be prepared," she said.
Canaday supports several charities with time and money.
She was one of 12 women honored by Girl Scouts of Orange County last year and appeared as one of the dozen women in the Girl Scouts' keepsake calendar, which is unveiled at the Celebrate Leadership fundraiser each year.
She was also a presenting sponsor for the first annual ball of Susan G. Komen for the Cure Orange County, based in Costa Mesa.
She also supports United Way of Orange County's Women's Philanthropy Fund, whose members give more than $10,000 annually, and Chapman University. Canaday's daughter, Christa Lee Canaday, graduated from Chapman and now works in Canaday's Newport Beach office.
The amphitheater at Chapman is named after the Canaday family, as well as a graduate lounge. Canaday is on Chapman's board of counselors, an advisory board for the dean of the George L. Argyros School of Business and Economics.
Canaday said she's involved with charities because she wants to help.
"I feel so thankful for what I've been given that I want to give back," she said.