Irvine Company Buys Into Pasadena
REAL ESTATE: SOURCES PUT DEAL AT $145M FOR OFFICE NEAR OLD TOWN
Saturday, July 28, 2012
Share this article: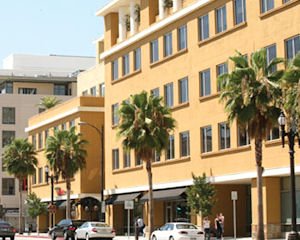 Irvine Company has bought a five-story office in downtown Pasadena, the latest in a string of big-dollar acquisitions for the Newport Beach-based real estate investment and development company.
The landlord recently closed on the purchase of Western Asset Plaza, a nearly 276,000-square-foot office building at 385 E. Colorado Blvd.
The property was sold by Santa Monica-based Worthe Real Estate Group, which put the 9-year-old building on the market a few months ago.
The office is near the intersection of Colorado Boulevard and Los Robles Avenue, across the street from the Paseo Colorado shopping center, and a few blocks east of the popular Old Town Pasadena retail and dining center.
Money manager Western Asset Management Co. is the complex's largest tenant, with a lease for close to 180,000 square feet at the property, which serves as its headquarters. It recently renewed its lease for 13 years, after reportedly eyeing other locations in the area.
Western Asset Plaza counts a number of ground-floor retail tenants, including a Ruth's Chris Steak House, along with three floors of underground parking.
Irvine Co. officials last week confirmed the purchase, but declined to comment further on the transaction.
Terms of the sale, said to be in the works for close to a month, were not disclosed. Sources familiar with the sale said the building likely traded hands for close to $145 million, or about $525 per square foot.
That price would make it the most expensive sale on a square-foot basis in Pasadena since an office building at 171 S. Los Robles Ave. sold for $682 per square foot in mid-2009, according to data from the Los Angeles Business Journal.
Worthe acquired the building at an undisclosed price out of foreclosure in 2010 after its previous owner, a private company led by developer Robert Maguire, could no longer make payments, the L.A. Business Journal reported in April, when the office was first listed for sale.
The property is Irvine Co.'s first investment of any type in Pasadena, and its third office property in Los Angeles County. The other two offices, Fox Plaza and Westwood Gateway, are both located in West Los Angeles.
Growing List
The deal adds to a growing list of out-of-town office buys of late for Irvine Co., Orange County's dominant landlord.
Recent office acquisitions confirmed by the company over the past month include Silicon Valley Center in San Jose, a 439,000-square-foot office complex near that city's airport; and Centerside One, a nearly 205,000-square-foot office located near Qualcomm Stadium in the Mission Valley area of San Diego County.
The three recent buys are believed to have sold for more than $320 million on a combined basis, according to sources and local reports.
The company also just spent nearly another $86 million paying off the loan for another office it owns in La Jolla.
Buys
The recent deal-making is believed to be the most active stretch of office buys for Irvine Co. since the end of 2010, when it paid close to $1 billion for office complexes in Newport Center and Costa Mesa, as well as a high rise in Chicago—the only office it owns outside California.
Irvine Co.'s office portfolio includes almost 500 buildings, a variety of high-rise, mid-rise, office campuses and other buildings. It owns about 30 million square feet of space in Orange County.