REAL ESTATE: EXPECTED TO SHIFT A FEW BLOCKS ON MICHELSON
LA Fitness HQ Set for Move to Park Place
Saturday, January 28, 2012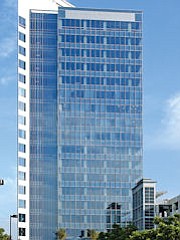 Irvine-based fitness center operator L.A. Fitness International LLC will move its headquarters a few blocks to one of the higher-end office buildings in the John Wayne Airport area.
The growing health club chain last week announced it had signed a 10-year lease for 91,023 square feet of space at the 3161 Michelson office tower in the Park Place mixed-use campus.
The deal is one of the larger relocations announced in Orange County's office market over the past year.
It's also is a sizeable step up in office space for LA Fitness, which operates more than 500 fitness clubs across the country.
The company had been leasing about 60,000 square feet of space at the 2600 Michelson office tower, located on the opposite side of Jamboree Road near the San Diego (I-405) Freeway.
LA Fitness has been in a growth mode of late. In December the privately owned company paid $153 million for 171 fitness clubs in 16 states operated by rival chain Bally Total Fitness.
Extra Room
The new space also allows for some extra room for future growth, according to brokers who worked on the deal.
LA Fitness saw about $1 billion in revenue in 2010, according to trade publications.
The company is majority-owned by a trio of private equity firms: CIVC Partners and Madison Dearborn Partners of Chicago, and Siedler Equity Partners of Marina del Rey.
The lease is a big win for New York-based landlord Emmes Group of Cos., which bought the 19-story Michelson tower in mid-2009 when it was about 60% leased.
The building is now about 93% leased, according to the landlord.
Other tenants at the building include Hyundai Capital America, which has its name atop the office, Jacobs Engineering Group Inc., and law firms Gibson, Dunn & Crutcher LLP, Jones Day and Bryan Cave LLP.
$2.50-$2.90
Terms of the deal weren't disclosed. Tenants have been signing leases at the building for monthly rents in the range of $2.50 to $2.90, according to brokers.
The high-end building, which was built in 2007 at a reported cost of nearly $260 million, was expected to get rents of about $4 per square foot when it was going up.
The tower—originally called 3161 Michelson—was built by Los Angeles-based Maguire Properties Inc., which now operates under the MPG Office Trust Inc. name.
Maguire sold the tower—which was originally slated to hold the headquarters of defunct subprime lender New Century Financial Corp.—to Emmes in a move to shed debt a few years after the building opened.
Prev Next