CHUNG HITS CHINA CHALLENGE; CLUBS' OWNER MOVES ON
Balboa Break Up
Saturday, January 14, 2012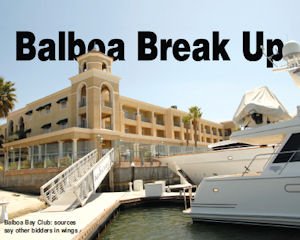 The sale of the Balboa Bay Club and Resort and the Newport Beach Country Club to a wealthy Chinese investor has been called off, according to sources familiar with the transaction.
International Bay Club Inc.—a Newport Beach-based company that owns the tony oceanfront yacht club and the nearby golf club—has terminated a deal to sell itself to Seven-One Capital Business Inc., an entity headed up by Chinese-based energy and transportation entrepreneur Winston Chung, according to sources.
The sale apparently fell apart over Chung's inability to provide the funds for closing the deal.
Difficulty getting money out of China—a common refrain among potential Chinese investors in U.S. properties and businesses these days—appears to have been the downfall of the deal. China's government has tightened up the amount of money that investors can shift out of the country as it seeks to prevent capital outflows amid concerns over its domestic economy and the stability of its currency.
A source close to the Balboa Bay Club said the ripple effect scuttled the deal with Chung.
"The Chinese Central Government had not allowed the movement of the necessary funds," the source said.
Chung's representatives in the U.S. could not be reached for comment.
A sale of the posh Orange County clubs could still move forward with other bidders. A time frame for any new deal and any potential buyers remain unidentified.
Other sources not directly involved in the transaction said there is serious interest from other potential buyers if International Bay Club goes back on the market.
The deal with Chung was struck in August, and was initially expected to close within a month.
Terms of the sale were not disclosed at the time. Industry sources have put an estimated price tag on the sale of the two properties in the $170 million range.
Rooms, Apartments
The Balboa Bay Club, located along the Mariner's Mile section of West Coast Highway, counts about 160 hotel rooms, along with 145 high-end apartments and a 144-slip private yacht marina. The club got a $65 million renovation in 2003.
The Newport Beach Country Club, site of the Toshiba Senior Classic golf tournament, is a few miles away, next to Newport Center and Fashion Island.
International Bay Club is looking to nearly double the size of the clubhouse at the 18-hole golf club to about 51,000 square feet, among other upgrades.
The deal for the two properties was believed to have included a substantial, non-refundable down payment made by Chung.
Prev Next