Marine Center Goes for $24.9M
REAL ESTATE: 36,000 SF OF OFFICE, RETAIL IN N.B.
Saturday, February 25, 2012
Share this article: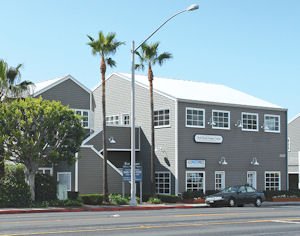 The Mariner's Mile Marine Center, a mixed-use project along a high-profile stretch of West Coast Highway in Newport Beach, has traded hands for $24.9 million.
The five-building, bayfront property counts about 36,000 square feet of office and retail space, as well as nearly another 11,000 square feet of shipyard and dock space. The New England-style buildings hold local offices for yacht companies Ocean Alexander of California and McKinna Yachts of Southern California, as well as a service boatyard for Duffy Electric Boat Co., among other tenants.
Price
The deal is one of the priciest retail sales seen along that stretch of Newport Beach in years.
The waterfront property, located about a half-mile north of the Balboa Bay Club near the intersection of Tustin Avenue and West Coast Highway, changed hands for a little under $700 per square foot, not factoring in the shipyard space.
The building was initially listed for sale at $35 million, according to marketing materials.
A Newport Beach-based family trust bought the property, according to Tim Sotoodeh of Santa Ana-based Pacific Strategic Fund Group Inc. Sotoodeh worked with the buyers on the deal, which had been in the works for some time.
"They had been wresting over a year" with the sellers on a potential deal, he said.
Sotoodeh said one of his affiliated companies, D1 Holdings LLC, would be managing the asset for the new owners.
Same Manager
Newport Beach-based Murrell Co., which had ties to the property's prior owners, VMA Mariner's Mile LLC, is remaining as the site's property manager, Sotoodeh said.
The property was renovated in 2000 and is one of the newer-looking properties on the busy stretch of West Coast Highway, which counts numerous restaurants, stores and yacht-related businesses.
The Mariner's Mile property brings in about $1.6 million in rents, according to marketing materials for the site.
The site, at 2429-2507 West Coast Highway, has the potential to see some 36,000 square feet of additional development, although any plans are "down the line," Sotoodeh said. He declined to provide more information on the buyer, which is operating under the name of Mariner's Mile LLC.
STEC Tie?
Public records suggest the building's owner has ties to the founders of Santa Ana-based storage device maker STEC Inc. Mariner's Mile LLC, registered with the state of California late last year, lists STEC's headquarters as its own address.
The technology company's founders, and their family members, appear to have been involved in a handful of significant local real estate deals in the past few years, though they've kept a low profile over that time.
Joe's Crab Shack, a restaurant a few doors down from the Mariner's Mile Marine Center, was auctioned off in 2009 for $7.3 million. The buyer at the time was reported to be Mike Moshayedi, the brother of Manouch and Mark Moshayedi, who currently run STEC.
Mike Moshayedi, who left the technology company in 2007, owns one other small retail center on West Coast Highway, according to CoStar Group Inc. records.
He also was reported to have paid $4.5 million for a 48,000-square-foot Aliso Viejo office last November. That deal was the ninth-largest office sale in Orange County in the fourth quarter, according to brokerage data.
Other Deals
The largest real estate deal tied to the Moshayedi family was 2010's $94.5 million buy of the Shoppes at Chino Hills, a 388,000-square-foot mall that opened in 2008.
Members of the Moshayedi family took out a $60.8 million loan on the mall last year, according to regulatory filings.
The Moshayedi family is one of Orange County's wealthiest, with Manouch and Mark previously estimated to be worth $250 million each and Mike Moshayedi estimated to have more than $200 million.