A Tip of the Hat; New Majority's Cap; Home Prospect at Fairgrounds
Saturday, February 4, 2012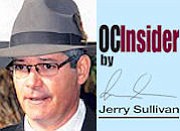 I'll start with a tip of the hat to my predecessor, Rick Reiff, for whom I worked as a reporter and managing editor before becoming editor myself. Rick's TV show—now called SoCal Insider—is claiming more of his time, but he defined this column and will continue to help glean OC's pulse as executive editor. Here's how Rick would put it: EE RR's picture is gone but he's still in the picture at the OCBJ …
Larry Higby and Michael Hayde are spearheading New Majority's push for a November ballot measure to cap state spending. The group will put up $200,000 for what's expected to be a $3 million effort largely in the hands of the Howard Jarvis Taxpayers Association, Small Business Action Committee, and California Taxpayers Association. The goal is to guard against spendthrift pols during windfall periods akin to the dot.com boom. Revenue in excess of the limit would go toward debt until general obligation bonds account for no more than 5% of the annual spending. Hit that mark, and any revenue beyond the spending cap would split between education and a rainy-day fund, up to $2 billion. A bigger surplus would trigger refund checks to taxpayers for the whole pot …
A well-placed source says VP/Operations Jerome Hoban is a favorite to succeed Steve Beazley as CEO of the OC Fairgrounds. Hoban impressed a number of board members as a finalist four years ago, when Beazley got the top job, and his stock has gone up since then …

Pencil in lawyer and hotel developer Tim Busch as temporary CEO/president at JSerra Catholic High School, where he's cofounder and chairman. He'll fill in during a search for a successor to Frank Talarico, who's leaving for the CEO's job at Goodwill of Orange County. Use ink for JSerra's new principal, Dr. John Freeh—and watch your penmanship. Freeh has a degree from Oxford, experience teaching at a Jesuit university and a brother named Louis, who used to run the FBI …

How flat is the management structure of Jim Jannard's Red.com Inc.? Ted Schilowitz, first hire and the public face of the camera maker, has "Insert Title Here" on his business cards. Reporter Kari Hamanaka takes a broader look at Red on page 1 …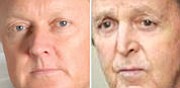 A recent list of prominent Cal State Long Beach grads in OC missed at least one: County Supe John Moorlach. Others? ...
Kudos to the PR team at the Irvine Co., which paved the way for a new daytime cleaning schedule with postcards introducing members of the maintenance crew to tenants at Irvine Towers. The landlord will save on light bills with the daylight program. I get to greet Maria by name when she drops by to keep the office slick …
Anyone else think automaker Henrik Fisker could pass for music maker Paul McCartney's younger brother?