Call Center Sees Irvine HQ as Brand Boost
SERVICES: ALORICA CITES AREA'S AMENITIES IN RELOCATION FROM IE
Saturday, December 29, 2012
Share this article: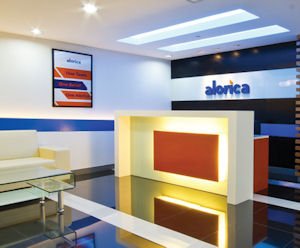 A call-center operator has moved its headquarters to Irvine from Chino, bringing a work force of 75 to Orange County.
Alorica Inc. has taken the entire 11th floor—about 20,000 square feet—at 5 Park Plaza in the Jamboree Center, an office complex owned by Newport Beach-based real estate development firm Irvine Company.
Alorica had leased about the same amount of space in Chino. It made the move to Irvine as part of a larger effort to bolster the company's stature, according to Chief Marketing Officer Amit Shankardass.
"In 2012, we embarked upon a rebranding effort for the company," Shankardass said. "We had a new logo and a new messaging system internally and externally. We also wanted to establish a better, more vibrant corporate environment for the company, which is what instigated our move to Irvine."
Irvine's infrastructure and convenience in transportation are among the factors that drew Alorica to the city.
"Things like hotels, restaurants and entertainment, as well as the office's proximity to John Wayne Airport—all of these are factors that attracted us," Shankardass said.
Alorica provides customer-management outsourcing services from 40 call centers across the U.S. and abroad. It has more than 20,000 employees companywide, with about 16,000 in the U.S.
The company caters to a number of industries, such as financial services, retail, utilities and tourism. Its services range from technical support and online chatting platforms to social media support.
The 12-year-old company is privately held and does not disclose financial data, but Shankardass said it has seen "substantial growth over the last three to four years, growing approximately 20% year over year."
Hiring also has grown, which is typical in the labor-intensive call-center business, which often sees companies "hiring hundreds every year," according to Shankardass.
Industry Growth
Alorica isn't alone when it comes to growth. The National Association of Call Centers describes the U.S. call-center industry as "among the first industries to recover from the recession."
"Encouraging employment data, [which] show a positive trend in contact-center employment for the last eight quarters, [have] buoyed the industry," wrote Paul Stockford, research director at the Hattiesburg, Miss.-based organization, in a July 2011 paper, the latest such report available.
Stockford's study indicates the call-center market includes some 66,000 offices and more than 3.5 million workers in the U.S.
Most of Alorica's new hires will be made at offices beyond OC.
Shankardass said the company isn't likely to open a call center here, but will continue to look for opportunities to expand its headquarters.
The company does plan to add jobs in the hard-pressed Central Valley. It expects to hire 400 full-time employees at its Fresno and Clovis offices in coming months, with similar plans in Colorado Springs and Florida.
"We do make good on our word of hiring," company spokesman Danel Kuhlmann said. "When we announce plans such as those… it is normally due to new client growth or existing-client expansion."
Hiring continues because human skills still trump efficiencies offered by technology for call centers, Kuhlmann said.
"Customers usually only 'self-serve' to a certain degree before they want to talk to a real person, so there is still a demand to hire people to help provide exceptional service to our clients' customers," he said.
Alorica is the largest employer in Union County, S.D., with 800 workers in North Sioux City, according to the region's news outlet KTIV Television Inc. That location began with 80 employees in 2006.
Philippines
The company also was recognized as one of the "fastest-growing business-process outsourcing companies" by the Business Process Association of the Philippines. Alorica has six call centers in the Philippines, which recently passed India as the largest call-center operator in the world with about 400,000 employees in the sector, according to industry trade publications.
Alorica also has one office in India and another in the Dominican Republic.