REAL ESTATE: SHOPOFF GROUP IN DEALS FOR 13 ACRES, REWORKS PLANS
More Apartments Eyed in Platinum Triangle
Sunday, December 9, 2012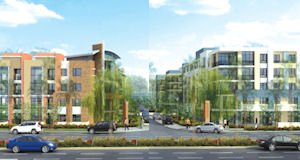 Development plans for a pair of adjoining parcels in Anaheim's Platinum Triangle are being reworked to hold more apartments at the expense of office and hotel projects once envisioned for the properties.
An affiliate of real estate investor and developer Shopoff Group filed the new plans last week with Anaheim's planning department for a nearly 13-acre stretch of land running between 905 and 1105 Katella Ave., situated a few blocks from the Santa Ana (I-5) Freeway.
A fund run by Shopoff Group is expected to close on a buy of one of the parcels before year-end. The fund will likely close on the purchase of the second site early next year, according to William Shopoff, chief executive of the Irvine-based company.
Shopoff Group's latest plans call for up to 749 apartments to be built on the land, with construction starting next year on the larger of the two parcels it is in the process of buying.
Terms of the two sales haven't been disclosed. Shopoff said last week that his company is planning to bring in another investor as a partner for the two development sites, which real estate sources said are likely to be worth $40 million or more on a combined basis, assuming the city approves the new development plans.
Buildings on the parcels include a 175,000-square-foot industrial property and Mr. Stox restaurant, a fixture for more than 30 years. Both sites would be eventually razed if the latest plans are approved by the city.
Most of the construction in the Platinum Triangle—an 820-acre commercial area surrounding Angel Stadium—has focused on apartments during the past several years.
The latest apartment proposals represent a big change from prior plans for the adjoining parcels.
A mixed-use project called Platinum Gateway had been proposed at Katella Avenue and South Lewis Street, featuring 320 condominiums, a 12-story office and a 138-room hotel on a lot that now holds a large, multitenant industrial building.
Shopoff Advisors' proposal would boost the maximum amount of housing at the same location to 399 units and eliminate commercial elements.
Office and hotel development "isn't viable right now," Shopoff said.
At the second site—which holds Mr. Stox—a project known as Platinum Vista initially called for development of 327 homes and 9,500 square feet of restaurant space, including a new home for Mr. Stox. The new proposal would increase the allowed homes from 327 to 350 and eliminate the commercial portion of plans.
Both parcels would be built to standards for for-sale condos but are envisioned as for-rent apartments initially, according to Shopoff.
"There will be a market for for-sale again (in the Platinum Triangle), but not right now," he said.
The midrise buildings would look similar in nature to other recently built apartment complexes in the Platinum Triangle, which has seen more than 2,000 rental units built during the past five years.
Work on the Platinum Gateway site could begin next year, with Platinum Vista starting construction about 18 months or so after that, according to Shopoff.
The Anaheim plans add to a growing development pipeline for Shopoff Group. The company also is involved in Uptown Newport, a proposed 1,244-unit residential project along Jamboree Road in Newport Beach.
Plans for the mixed-use Uptown Newport project have received some criticism from fellow real estate companies that own offices near the proposed 25-acre construction site, which could include several residential towers.

Shopoff said he's confident a plan can be worked out to appease most of those complaints.
"We want to end up with a property that they'll be happy with," he said.
Shopoff Advisors' plans for the two Anaheim sites add to a growing list of apartment-development-related news taking place in the Platinum Triangle.
The Business Journal reported last month that Newport Beach-based Irvine Company bought a 6.2-acre site next to its existing Gateway apartment complex in the Platinum Triangle, with plans to build another 395 units in a second project. Irvine Co. is said to have paid nearly $18 million for the land, which now holds an industrial building.
San Francisco-based apartment owner BRE Properties Inc. recently said it plans to put almost 7.5 acres of land it owns along Katella Avenue up for sale rather than develop the site, situated next to its Park Viridian complex, which opened in 2009. The undeveloped land could hold another 400 apartments and is valued at about $23.1 million by BRE.