SALES AT BIGGEST OC CENTERS UP 7%, NEAR $7 BILLION
Harbinger for Holidays
Sunday, December 9, 2012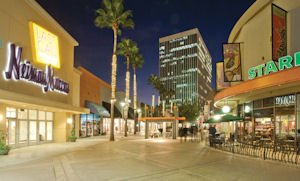 The Outlets, part of Simon Property's The Mills Group, made a switch late last year from The Block at Orange to its current name to place a greater emphasis on its roster of outlet and value-priced tenants in a bid to distinguish itself from other malls and attract more locals and tourists. That strategy is paying off, Elfring said.

"We're the only outlet center in Orange County that gives all shoppers a local avenue to do their shopping," she said. "They don't have to drive a couple hours to L.A. or to the desert. It's right here in Orange County."
Property improvements done in conjunction with the name change and new tenants also have helped. The center added a new entrance off the Garden Grove (22) Freeway that feeds directly into the side of the mall anchored by Saks Fifth Avenue's Off 5th outlet. There also have been upgrades to three of the four center restrooms, with a fourth in the works.
Sales Rise
No. 13 Downtown Disney District also saw a notable surge in taxable sales, which rose more than 15% to $158.9 million, according to information provided by the city of Anaheim. The total reported by the city does not include Disney-owned stores at the center.
The Disneyland Resort—which includes Downtown Disney along with the Disneyland and Disney California Adventure theme parks and three hotels—saw a surge in visitors with the June 15 opening of Cars Land.
Downtown Disney also saw the reopening of La Brea Bakery Café and The Lego Imagination Center store earlier this year. La Brea Bakery added new patio seating and made improvements to seating in front of the restaurant. The Lego store added more Disney characters made of legos set throughout the store's interior and exterior.

A few fared less well despite the uptick in business for many OC shopping centers.
No. 16 Brea Union Plaza saw the largest decline in taxable sales for the 12 months through June. Sales for the center, which has Home Depot and Walmart among its anchors, saw taxable sales fall 22% to $154 million.
Sales at No. 25 Mission Viejo Freeway Center fell 9% to $83 million, while No. 8 Westminster Mall's sales declined more than 1% to $266.1 million.
This year's list expanded by three, with the addition of No. 19 South Coast Collection in Costa Mesa, No. 24 Plaza de la Paz in Laguna Niguel and No. 28 Pavilions Place in Westminster.
South Coast Collection, known as SoCo, debuted with the highest ranking of any newcomers on the list after adding several new tenants during the past year.
Prev Next