SALES AT BIGGEST OC CENTERS UP 7%, NEAR $7 BILLION
Harbinger for Holidays
Sunday, December 9, 2012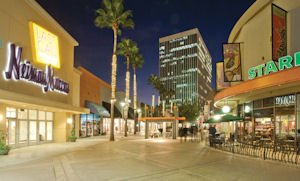 Orange County's largest shopping centers saw taxable sales rise about 7% over the 12 months ended in June, as property and store improvements, along with a number of OC-exclusive tenants, helped draw customers amid the ongoing economic recovery.
The 29 largest shopping centers here—a mix of malls and outdoor centers—had taxable sales total $6.9 billion for the 12 months through June, according to this week's Business Journal list. That marked the largest gain in the past three years, a streak of annual increases that started after a 7% dive in 2009.
The latest gains came amid a surge of leasing activity, store redesigns and renovations at a number of shopping centers.

Nineteen shopping centers saw taxable sales grow during the 12-month period, based on data for taxable sales from cities and the centers. Three centers had declines, one was about flat, and comparable totals for the prior 12-month period weren't available for six others.

South Coast Plaza once again topped the list, with a more-than-10% increase in taxable sales to $1.4 billion.
The Costa Mesa mall has seen 18 new stores this year and about as many others remodel, helping push its 2012 sales projection to $1.5 billion. That's up about 7% from a year ago.
No. 2 Fashion Island, which saw sales rise almost 11% to $576 million, nabbed its own raft of OC-exclusive retailers and other new tenants. That took place amid a $100 million center makeover that has seen landscaping improvements and now is wrapping up with the addition of about 20,000 square feet of space.
No. 3 Brea Mall, owned by Indianapolis-based Simon Property Group Inc., and No. 4 The Market Place in Tustin maintained their spots on this year's list with sales gains of about 6% and 16%, respectively.
The District at Tustin Legacy rounded out the top five with a 13.2% increase in sales to $364.7 million.
The District took the No. 5 spot from No. 6 Irvine Spectrum Center, where sales rose almost 10% to $355.2 million.
Taxable sales for the top five centers totaled $3.3 billion, accounting for nearly half of the list's total sales for the 12-month period.

The year's biggest percentage gainer was No. 11 The Outlets at Orange, which saw sales jump 21% to about $185.2 million for the 12-month period, good for a move up three spots on the ranking.
Its sales gains—and similarly boosted sales at other centers—was driven by a swell of new tenants added during the past year, according to General Manager Kristin Elfring. New stores at The Outlets include Banana Republic and Nordstrom Rack.
Prev Next