RETAIL: CITY EXPECTS $55M REVAMP TO MIRROR SURROUNDING "URBAN VILLAGE"
Laguna Hills Mall on Retail Makeover List
Saturday, December 1, 2012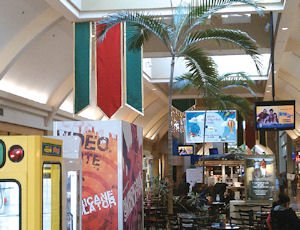 The owners of the Laguna Hills Mall are said to be planning a redevelopment of the 847,000-square-foot shopping center, which would be the latest major makeover of a retail project planned in the city.
Indianapolis-based Simon Property Group LP, the largest owner and operator of malls in the U.S., is said to be working on plans to rework the nearly 40-year-old property, which was last renovated in 1994.
Laguna Hills city officials put the price of the mall's expected redevelopment at $55 million.
A time frame for any construction has not been disclosed. City officials said it is possible a plan could make it through the approval process in about six months after being submitted.
Simon "has indicated they are working to submit a preliminary application and to make a presentation to the City Council in early 2013," City Manager Bruce Channing said in his year-end report to the city, which was filed last week.
Representatives of Simon, which has owned the mall since 1997, declined to comment on the redevelopment plans.
The enclosed mall, which is just off the Santa Ana (I-5) Freeway next to El Toro Road, counts about 100 shops, and is anchored by a Macy's, JCPenney, Sears and Nordstrom Rack.
Struggles
The property has struggled to compete for shoppers and tenants with the nearby Shops at Mission Viejo—another Simon property—and the Irvine Spectrum. It was listed by the owner as being 86% leased at the end of last year.
City officials note that the owners have opted of late to "systematically de-lease" in anticipation of the upcoming renovations.
None of the anchor tenants are expected to leave as part of the redevelopment, said Don White, assistant city manager.
Pushing
The city has been pushing for Simon to renovate the center for almost 10 years; a few years ago Simon was said to be considering a mixed-used redevelopment plan for the site, with housing as well as retail.
Those plans failed to move forward, in large part due to Simon's decision to cut back on redevelopment spending amid the economic downturn.
The company has been more active on the redevelopment front of late. Last month it said it expects to spend about $700 million on renovation and expansion projects across the U.S. this year, up from $265 million in 2011.
The latest redevelopment plan in the works for the Laguna Hills Mall will not include any housing, White said. Channing's report to the city last week noted the plans would "significantly change the character of the mall" and mirror many of the changes now under way in the surrounding area, which city officials refer to as the Urban Village.
Prev Next