Hilton Anaheim Sale Tops $200 Million
Saturday, August 25, 2012
Share this article: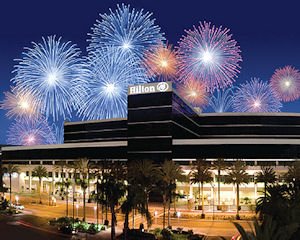 The Hilton Anaheim, the largest hotel in Orange County by room count, has traded hands in a deal estimated at $215 million or more.
A Delaware-based buyer, operating under the name HHC HA Investments II Inc., recently took ownership of the 1,572-room hotel, according to property records.
Little is known about the new owner to date. Regulatory filings suggest the sale was financed at least in part by investors from the United Arab Emirates. Calls to a law firm representing the buyer were not returned.
Officials at the Hilton Anaheim said they were unable to comment on the sale, which looks to be the among the priciest hotel transactions in California so far this year.
Industry sources pegged the property's value in the $215 million to $230 million range.
The low end of that range would put a sale price at roughly $137,000 per room for the Hilton Anaheim, located next to the Anaheim Convention Center at 777 Convention Way.
Other hotels in the Anaheim area have been trading hands at prices closer to $100,000 per room the past couple years, according to brokerage data.
"It's a good reflection of the improving market," said Alan Reay, president of Atlas Hospitality Group, an Irvine-based hotel consultancy.
The Hilton Anaheim property, which opened in 1984, runs about 1 million square feet, and attracts Disneyland visitors in addition to business travelers and visitors to the convention center.
Meeting Space
It also counts about 100,000 square feet of meeting space, the second-most of any area hotel, behind Disneyland Hotel in Anaheim.
Two newly remodeled ballrooms at the Hilton are each capable of accommodating 1,800 people for a sit-down dinner, according to hotel marketing materials.
An affiliate of Makar Properties LLC sold the hotel. Newport Beach-based Makar paid a reported $160 million for the property—about $100,000 per room—in 2007 and spent millions more repositioning the hotel over the following two years. It's not known whether Makar retains any stake in the hotel.
Upgrades to the property, estimated by Makar officials at $60 million, saw the hotel get redesigned guest rooms, along with improvements to its meeting space, lobby, restaurant and 25,000-square-foot health club.
The Hilton was the last of several high-profile hotel properties owned in OC by Makar, whose real estate portfolio took a big hit during the downturn.
Lenders took over the high-end St. Regis Monarch Beach Resort in Dana Point in 2009 after Makar and San Francisco hedge fund Farallon Capital Management LLC fell behind on payments for $300 million in debt from a 2007 refinancing.
Seattle-based Washington Real Estate Holdings LLC, one of the debt holders of the St. Regis, took over the 400-room property in 2010 in a deal valued at $235 million. Washington Real Estate was looking to sell the hotel again last year and turn a quick profit on its investment, but no deal was struck.
Another hotel that Makar bought in 2006, Wyndham Orange County in Costa Mesa, sold for a reported $21 million in 2009. Makar was reported to have paid $42 million for that 238-room property, located near South Coast Plaza.
The company also was the initial developer of Huntington Beach's long-stalled Pacific City, a 31-acre mixed-use project located south of the Huntington Beach Pier along Pacific Coast Highway.
Makar transferred ownership of the Pacific City project and its $129 million construction loan to Farallon Capital Management in 2010.
The project traded hands late last year with the loan's discounted sale to Miami-based developer Crescent Heights, which is working with other area developers to get construction for the apartment, retail and hotel project moving ahead next year.