SALES TAX BREAK, SPECIAL VISA DRIVERS IN 480,000-SF RETAIL CENTER
Big Idea in Buena Park
Saturday, August 25, 2012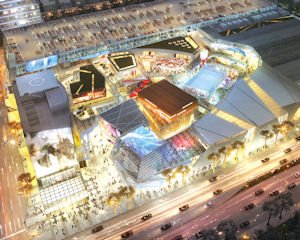 City's Incentive
The city gave the project a boost when the city council approved a resolution two years ago promising to pay M+D the equivalent of 55% of the sales tax revenue the project generates for the next 30 years.
It also gave two lots, the former site of the Franklin Motel and a car wash, to the developer for free.
"It's going to be a sea change for the community and put Buena Park on the map in terms of retail and entertainment," Buena Park Community Development Director Joel Rosen said.
M+D believes the project will succeed because Buena Park is underserved by retailers, Wanamaker said. The closest mall, Los Cerritos Center in Cerritos, is about five miles away.
There's also Ohio-based Developers Diversified Realty's Buena Park Downtown, which has a mix of mostly mid-tier department stores and off-price retailers.
M+D hopes The Source will serve not only locals, but attract regional and international visitors by going relatively upscale.
"We're looking to develop an iconic property for entertainment, shopping, food and wellness," Wanamaker said. "We believe it will be the charge for North Orange County."
It's a big statement for what the city calls its Entertainment Zone, the name given to Buena Park's main visitor area running along Beach Boulevard.
Major Attractions
Major attractions in the zone include Ohio-based Cedar Fair Entertainment Co.'s Knott's Berry Farm, Texas-based Medieval Times Entertainment Inc.'s Medieval Times Dinner & Tournament and Florida-based Odien Inc.'s Pirate's Dinner Adventure.
The city has long hoped to see the area revitalized.
Its now-dissolved redevelopment agency stepped in several years ago, pouring $40.6 million into the purchase of six motels along Beach Boulevard. Officials said the motels drew an inordinate number of complaints for prostitution and drugs.
The redevelopment agency in 2007 paid $8.6 million for the 8.5-acre site previously occupied by Movieland Wax Museum, which closed two years earlier.
"We're still working very hard to bring in new attractions and hospitalities to Beach Boulevard," Buena Park's Rosen said. "We were thrown a bit of a monkey wrench with the dissolution of the redevelopment agency."
Existing businesses in the area are hopeful about a new attraction for the area.
"Any project that will bring new visitors to Buena Park is always welcome," Knott's Berry General Manager Raffi Kaprelyan said. "Knott's Berry Farm hosts thousands of local, out of state and international visitors every year. By bringing unique retail and dining options to Buena Park, you enhance a visitor's experience and potentially lengthen their stay in the city—which benefits us all."
Variety
Variety is what businesses hope The Source will add to Beach Boulevard.
The closing of Movieland Wax Museum didn't affect Medieval Times, which was across the street, but it was one less option to help keep visitors in Buena Park longer, said Medieval Times Marketing and Sales Manager David Manuel.
"[Movieland] was a benefit for people to come to Buena Park and make more of a day of it," Manuel said. In the past, you had a Movieland walk-through for a couple hours if you weren't spending the entire day at Knott's."
Medieval Times, which has been in Buena Park since 1986, is itself a big draw for the area. About 100,000 guests are expected to have visited during this summer alone.
"[The Source is] a huge project," Manuel said. "We'd much rather have a modern shopping, dining and entertainment venue located down the street from us rather than a large, dirt lot ... We'd love to see this street full and moving again."
Prev Next