SALES TAX BREAK, SPECIAL VISA DRIVERS IN 480,000-SF RETAIL CENTER
Big Idea in Buena Park
Saturday, August 25, 2012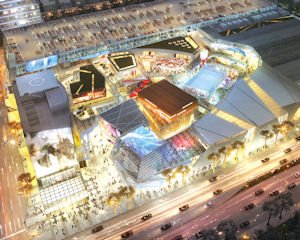 Something big is coming to Buena Park.
Recently erected construction signs around the perimeter of an empty, 12-acre dirt lot tell the nearly 500,000 drivers who pass through the intersection of Beach Boulevard and Orangethorpe Avenue on average each day that a retail and entertainment center called The Source is in the works.
Oversized posters with renderings like images out of a slick lifestyle magazine surround the site, showing off visions of an urban shopping center with modern architecture.
It's a clear contrast to the residential neighborhoods and low-rise strip centers that surround the planned project.
Lynwood-based developer M+D Properties broke ground this month on the project's more than 480,000-square-foot, $100 million first phase, which is expected to bring national retailers to the area.
M+D also is billing the development as a center that will bring 5,000 jobs and boost the number of visitors to the area to nearly 11 million from 6.4 million.
The first phase of the project is slated for completion in fall 2014.
The rest of the project calls for nearly 200,000 square feet of office space and a four-star hotel, which the developer is considering building with the first phase, according to Katie Wanamaker, vice president of property management at Greenland Property Management LLC in Buena Park.
Greenland is the management arm of M+D, which is known for its Plaza Mexico shopping center in Lynwood. The 450,000-square-foot shopping center on the southern edge of Los Angeles County has been a hit since its 2001 opening.
The center is designed after an ancient pueblo in Mexico City, with anchors that include grocery store Food 4 Less and a Curacao department store. Future plans call for the addition of condominiums.
The two brothers behind Plaza Mexico—M+D owners Donald and Min Chae, neither of whom were available for comment—aim to score a similar hit with a different feel at The Source.
Wanamaker said a number of "major retailers" have signed letters of intent but would not disclose names.
Renderings surrounding the project site show New York-based Macy's Inc. and Los Angeles-based Forever 21 Inc.
The entrance to The Source will be fashioned after what Wanamaker called a "mini Times Square" with billboards and LED signs for advertising.
The Buena Park project is being financed by the developer's investment and financing arm M+D Regional Center, which has EB-5 regional center designation by the U.S. government. The EB-5 program grants visas to individuals outside the U.S. that invest in projects deemed beneficial to an area's economic development.
Prev Next