REAL ESTATE: SOURCES HINT AT PRICE TAG OF $500 PER SF OR MORE
Park Place Tower Could Test Record
Saturday, April 28, 2012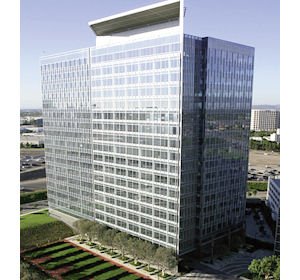 The Michelson, a 19-story Irvine tower considered to be one of Orange County's premier office buildings, is on the market for sale and could draw a record-breaking price from investors.
New York-based landlord Emmes Group of Cos. has owned the 536,000-square-foot building for about three years and put the tower on the market earlier this month, according to real estate sources.
New York-based brokerage Eastdill Secured, whose local operations are based in the Michelson, has the listing for the building, along with Orion Property Partners in Irvine.
The building, located in the Park Place mixed-use campus near John Wayne Airport, is going to market without an asking price, according to marketing materials.
Prominence
A sales price in excess of $200 million looks likely, considering the building's prominence and tenant base, as well as the prices that institutional investors have paid for other top-tier offices in Irvine over the past two years.
"If it isn't the premier office building (in OC), it's one of a handful at that level," said Kurt Strasmann, senior managing director for the OC operations of CBRE Group Inc.
Tenants at the building include Hyundai Capital America, which has its name atop the office; Jacobs Engineering Group Inc.; and law firms Gibson, Dunn & Crutcher LLP, Greenberg Traurig P.A., Jones Day and Bryan Cave LLP.
Irvine-based LA Fitness International LLC inked a deal to move its headquarters to the building this year, taking 91,000 square feet of space. That brought the Michelson's occupancy rate to nearly 94%.
How high investors bid up the Michelson remains to be seen.
Sources said Emmes could be looking for a sky-high price of between $500 and $525 per square foot, which would put the building's value at close to $275 million. That price would likely set a record for a single-building office sale in OC.
A high price is warranted, said Andy White, director of the office leasing practice for Irvine-based brokerage 360 Commercial Partners.
"It is definitely among the top 10 best assets in OC," White said. "It brings a metropolitan feel, which is why a lot of corporate tenants have gravitated toward it."
The building's prominence and image has allowed Emmes to ink new leases at above-market rents the past few years while some other landlords have offered discounts to land tenants, White said.
Monthly rents at the building average about $3.33 per square foot, with a few tenants at the building paying in excess of $4 per square foot.
Prev Next