CYPRESS VILLAGE OPEN, MORE ON WAY
Irvine Co. Mounting Apartment Construction Push
Saturday, April 28, 2012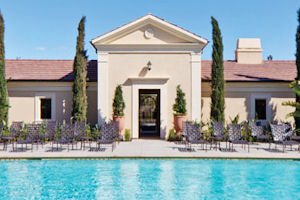 The grand opening of Cypress Village Apartment Homes, a new apartment complex in northeast Irvine, is just one of several area projects bound to boost Irvine Company's profile in the multifamily market over the next few years.
Newport Beach-based Irvine Co. recently took the wraps off of Cypress Village, a four-community project off Trabuco Road, next to the Santa Ana (I-5) Freeway. The project, when it's completed, will include 1,677 apartments in a mixture of styles, running from about 550 square feet to nearly 1,200 square feet.
Monthly rents will run from $1,478 to $2,791, according to the landlord. The company said more than 120 apartments were leased by mid-April.
Cypress Village is "one of the first—and the biggest—new apartment communities to open in Orange County since the Great Recession," said Kevin Baldridge, executive vice president of Irvine Co. Apartment Communities, who spoke at an April 19 event showing off the new project.
It won't be the last grand opening Irvine Co.'s apartment division will be hosting over the next few years.
The company—OC's largest apartment owner—has about another 4,000 apartments under construction in Irvine alone or has plans in the works with the city.
In comparison, the 28 largest homebuilders here sold fewer than 1,800 homes in all of OC last year.
Other Irvine Co. apartment projects in the works include a 980-unit development in the Park Place campus near John Wayne Airport, the 1,750-unit Los Olivos project moving ahead near the former Wild Rivers water park, and a pair of land sites near its Park and Village complexes in the Spectrum that could see another 1,300 or so apartments built.
Irvine Co. also has apartment projects moving ahead in Northern California.
The developer currently ranks as the country's 31st-largest apartment owner, with 44,545 units, according to a recent report by the National Multi Housing Council.
Irvine Co. would vault into the top 20 on that list once its latest projects are completed, assuming the portfolio of other owners on that list remained flat.
Irvine Co.'s apartment push doesn't mean the company's abandoning for-sale homebuilding on the Irvine Ranch. Along with ongoing projects like Stonegate and Laguna Altura, the company's eyeing land next to the Cypress Village apartment project for another housing project in the not-too-distant future (see related story, page 1).
Steadfast Growth
An investment fund run by Irvine-based real estate investor Steadfast Cos. is starting to amass a sizeable apartment portfolio in some far-flung locations across the Central U.S.
Prev Next