No Big Easy for Bhathal: Tri Pointe's Athletic Edge; My Oh Myford!
Saturday, April 14, 2012
Share this article: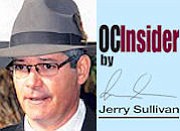 Reports from New York indicate that Big Canyon resident Raj Bhathal might have lost out on his bid to buy the New Orleans Hornets pro basketball team due to a family split in the Big Easy. Initial reports some weeks ago suggested that a bid by Bhatal— founder of Tustin-based swimwear maker Raj Manufacturing, now in the hands of private equity investors and his children—would include Larry Benson, brother of Tom Benson, owner of the New Orleans Saints football team. It looked at press time as though Tom Benson swooped in with a late, $340 million offer of his own after meeting with NBA Commissioner David Stern and team owners in New York. The NBA assumed control of the struggling Hornets two years ago in a $318 million deal …
Our reporter Mark Mueller notes that you need a competitive streak to survive in the homebuilding industry these days, and Tri Pointe Homes CEO Doug Bauer fits the bill. The former president of William Lyon Homes is an accomplished triathlete, although he says he's finding less time to work out as his business picks up. Don't make any assumption on the company's name, by the way. The 'Tri' in Tri Pointe isn't a sports reference—it stands for the company's motto of Think-Renew-Inspire. Mueller has more on the thinking behind Irvine-based Tri Pointe's deal for the long-stalled Brio residential development in La Habra and its other OC projects (see story, page 1). …
Turns out Doug Bauer isn't the most notable athlete in his own family these days. That honor goes to daughter Maddie, a member of the U.S. under-17 national soccer team that hopes to make it to the Women's World Cup for that age group in Azerbaijan later this year. Maddie, a junior at Mater Dei, has verbally committed to Stanford …
Mueller has been busy, but he didn't have to range too far last week, when three sizeable commercial properties changed hands within a few blocks of each other on Myford Road near the Irvine-Tustin line, with Irvine Co., Western Realco, Printronix and New America Funding all figuring in the deals (see stories, page 1 and this page) …
There's been a lineup change at Irvine Company's Newport Center HQ, where Dan Sheridan now is president of retail, with Keith Eyrich becoming chairman of the division. Sheridan joined from General Growth Properties late last year as part of a transition plan …
Irvine Co. is touting the upscale/laid-back restaurant Fig & Olive as the latest move to make Fashion Island "the downtown of Newport Beach" in an ongoing, $100 million update of the center. Fig & Olive has gotten high marks in Manhattan and Westchester in N.Y., and on Melrose in L.A. …
The Kiwanis Club of Santa Ana had a living example of how its scholarships are investments in area youth that can bring dividends. The club recently narrowed a field of candidates for $6,000 scholarships and plans to award them next month to as many as six students at Santa Ana College who plan to transfer to four-year schools. One of the Kiwanis members who plays a role in the program is Rob Richardson, president of the board of Santa Ana Unified School District—and a 1979 Kiwanis scholar.