THROUGH OCT. 9
REVIEW - South Coast Repertory's Pride and Prejudice
Sunday, September 25, 2011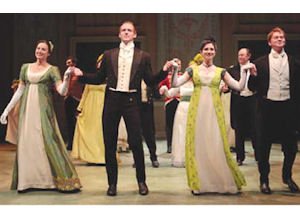 South Coast Repertory faces a daunting challenge in bringing to the contemporary stage a truly loved 200-year-old masterpiece, Pride and Prejudice by Jane Austen.
Indeed, few authors have achieved the acclaim, popularity and lasting praise of Austen.
That remains a measure of the amazing accomplishments by a young woman of 19th century England who wrote anonymously under the name "A Lady," needed her brother to negotiate her first book contract for Sense and Sensibility in 1811, published her "own darling child," Pride and Prejudice, in 1813, and died at the tender age of 41 only four years later.
In fact, outside of her immediate family, few even knew any of those were her work.
Flash forward a couple of hundred years and Austen's works are well beyond well known. More than 20 million copies of her books have been sold worldwide. The last 10 years alone have seen her stories turned into television mini-series and movies—even adapted into this reviewer's favorite variation, Seth Grahame-Smith's 2009 Pride and Prejudice and Zombies, a skillful retelling with the insertion of hordes of zombies and ninjas.
Then there are the sincerest forms of flattery: You've Got Mail, Bridget Jones' Diary, and the Twilight series all are said by some to be "inspired" by Pride and Prejudice.
Austen ranks third in the number of college courses at universities today behind only Shakespeare and Chaucer.
How's that for a challenging backdrop for Joseph Hanreddy and J.R. Sullivan? They bring their adaptation of Pride and Prejudice to South Coast Repertory in a fast-paced telling of the tale of the Bennet family—all with some helpful guidance from newly appointed Artistic Director Marc Masterson.
How to make something new here?
Hanreddy and Sullivan, with Director Kyle Donnelly, start with the eyes of a teenage girl of today's vintage, opening with the pubescent punker in her room reading the novel. The girl—along with the audience—is quickly swept back two centuries to view Austen's story unfold in front of her.
Essentially a tale of finding one's self, the story revolves around the five Bennet daughters, all of "marrying age" and expected only to seek a husband under social standards of the day.
Enter the handsome Mr. Darcy, who manages to impress all the Bennet girls with one exception—Elizabeth.
So be it, for Mr. Darcy is equally untaken with her.
The 21-member cast—largest in SCR's 48-year history—then takes the audience on a fluid, Regent-era stroll via contemporary media, largely through the use of video-projected sets and two rotating turntables. Use of accent pieces is minimal. The sets are at times embellished with a piano and, of all things, clear plastic chairs that might seem more a part of a Philippe Stark restaurant than a 19th-century mansion—odd, indeed, but it works. So too does the telling of the tale through the eyes of "The Girl," who hangs about the stage and seems to help the audience enjoy the story without getting in the way of it.
Prev Next