Chula Vista Bank Plans HQ Shift to Irvine
FINANCE: PAC TRUST ALSO DUE FOR SANTA ANA OFFICE IN GATEWAY DEAL
Sunday, November 20, 2011
Share this article: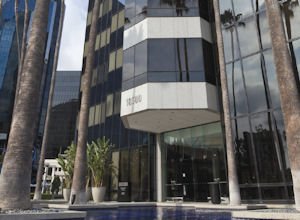 Chula Vista-based First Pactrust Bancorp Inc. plans to relocate its headquarters to Irvine, a move that would place its subsidiary Pacific Trust Bank among the largest commercial banks based in Orange County.
The bank expects the move to be completed in the first quarter of 2012.
Orange County is "a centralized location for our Southern California expansion," Chief Executive Gregory Mitchell said.
Pacific Trust has two acquisitions in process—Manhattan Beach-based Beach Business Bank and Gateway Business Bank in Cerritos.
Beach Business Bank was a $37.2 million buy. Beach Business Bank Chief Executive Robert Franko is expected to become president of holding company First Pactrust.
The $17 million deal for Gateway Business Bank brought Santa Ana-based Mission Hills Mortgage Bank-ers under First Pactrust's fold.
Mitchell said he expects the Irvine location to "accommodate the staff from the Gateway acquisitions."
Pacific Trust had about $930 million in assets at the end of the third quarter, up 7.7% from the same time a year earlier.
Completion of its pending deals is expected to bring the bank's assets to more than $1.3 billion.
That would be good enough to place Pacific Trust in the No. 2 spot on the Business Journal's ranking of commercial banks based in OC.
First Pactrust Bancorp Inc.
· Headquarters: Chula Vista
· Business: banking
· Founded: 1941
· Ticker symbol: BANC (Nasdaq)
· Market value: about $135 million
· Notable: plans to move headquarters to Irvine early next year
Opus Bank holds the No. 1 spot with assets of about $2.2 billion. Pacific Mercantile Bank follows with about $1 billion in assets.
Pacific Trust will lease 40,000 square feet from the Irvine Company on the top two floors of 18500 Von Karman Ave.
It has about 13,000 square feet at its current headquarters in Chula Vista.
About 150 employees will work at the office in Irvine, including some employees from the Santa Ana and San Diego offices.
"The San Diego office will be downsized, and we anticipate most of our employees to move up to OC," Mitchell said.
Pacific Trust plans to open a new branch in Tustin early next year as part of a push into the Orange County and Los Angeles markets.
Mitchell said he expects to add four more offices throughout Southern California in the near future.