Strong April for Auto Dealers
AUTO: SALES UP 14% FROM YEAR AGO; EIGHT-MONTH GROWTH STREAK
Sunday, May 29, 2011
Share this article: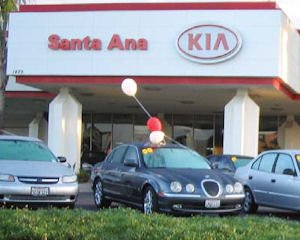 April was another good month in an ongoing recovery for Orange County auto dealers.
Sales last month at local dealers rose 13.5% from a year earlier to 10,198 autos, according to the Newport Beach-based Orange County Automobile Dealers Association.
The figure is based on registrations of new vehicles with the state, a barometer of sales.
Dealers now have had at least eight consecutive months of sales growth after bottoming out in 2010.
They still have a way to go: April's auto sales were short of the nearly 15,000 monthly vehicles dealers here saw in 2006.
Fountain Valley-based Hyundai Motor America Inc. and sister company Kia Motors America Inc. in Irvine—both part of South Korea's Hyundai Kia Automotive Group—continued to boost sales via local dealers.
April Hyundai sales were up 34% to 615 autos. Kia was up 69% to 315 autos.
Luxury vehicle sales improved for all of the major brands, except Lexus, hurt in part by March's earthquake and tsunami in Japan.
Mercedes-Benz dealers were up nearly 14% to 659 autos. BMW was up nearly 37% to 528 autos. Lexus was down 20% to 373.
Niche brand Porsche was up 20% to 54 cars. Jaguar sales were up 52% at 29 autos.
Toyota dealers and their key rivals selling Hondas saw divergent results.
Toyota, impacted by the Japan's recovery woes, was down nearly 11% to 1,840 autos sold in April.
Honda boosted sales nearly 30% to 1,702 autos.
Among dealers of U.S. brands, sales at Ford showrooms rose 25% to 758 autos. GM's GMC brand was up 35% to 131 autos.
New vehicle sales here grew 7.4% in the first quarter to 23,971 vehicles.
For the year, sales are expected to be up nearly 13% from 2010, with close to 125,000 vehicles sold in the county.
That would mark the second year of double digit gains following the deep rut of 2009, when annual sales fell to less than 100,000, the lowest in more than 30 years, according to the dealers association.