DINING: LOAN PAYMENT LOOMS; BENNIGAN'S VET JOINS THIS WEEK
Real Mex Promotions: New Boss, 3-Course Meals
Sunday, May 29, 2011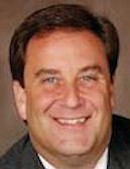 Cypress-based Real Mex Restaurants Inc. is hoping promotions at its various chains and a leadership shift will help reverse slumping sales and avoid a potential loan default.
The company is offering a happy hour, bargains on three-course meals and other new menu items to woo diners.
David Goronkin, a veteran of Dallas-based Bennigan's Franchising Co., is set to arrive this week to take the helm amid the rollout of the new strategy.
"The methods we're using are typical of value pricing to entice people to come on in and have a good time," said Lowell Petrie, the company's chief marketing officer. "We'll use value pricing to increase our traffic."
Real Mex is part of RM Restaurant Holding Corp., which owns the El Torito, El Torito Grill, Chevys and Acapulco chains, along with a few smaller brands such as Las Brisas in Laguna Beach. Its 178 company-owned restaurants and 32 franchises saw $478 million in revenue last year, ranking Real Mex No. 22 among private companies based in Orange County, according to the recent Business Journal list.
Real Mex is the third-largest restaurant operator with headquarters here and competes against chains such as Applebee's in the casual dining segment.
The company also counts food manufacturer and distributor Real Mex Foods as a subsidiary.
Most Real Mex restaurants are in California, where high unemployment and rising prices for food and gasoline have been a drag on sales.

Real Mex Chief Financial Officer Richard Dutkiewicz—who has served as interim chief executive since the company parted ways with Richard Rivera in April—warned during a recent earnings call that the company could be in danger of defaulting on loan payments due June 26.

The company has nearly $162 million of debt.
It reported a loss of $6.2 million for the three months through March 27, up from a $5.5 million loss a year earlier. Sales fell 3.5% in the quarter to $116.2 million.
The company is looking "at all options to either increase our sales or reduce our costs," Dutkiewicz said.
New Chief Executive Goronkin oversaw a reworking of Bennigan's, an Irish-inspired bar and grill restaurant chain.
Bennigan's recast its brand in recent years, trimming the size of restaurants and changing menus, uniforms, and signs at restaurants.
The change came after S&A Restaurant Corp. sold the brand in the wake of a bankruptcy by Metromedia Restaurant Group, its Plano, Texas-based parent.
Real Mex has begun testing a cantina menu with sliders, popcorn shrimp, buffalo nachos and other fare at Chevys in San Jose, where it has five restaurants.
Prev Next