Kingston: Undisputed King of Key Computer Memory Market in 2010
TECHNOLOGY: COMPANY HAS HALF OF DRAM MODULE MARKET
Sunday, May 29, 2011
Share this article: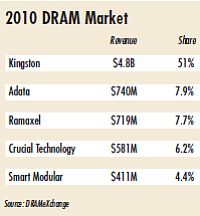 Fountain Valley-based memory products maker Kingston Technology Co. claimed half of the market last year for the most common memory used in computers.
Kingston's shares of sales of dynamic random access memory—chips mounted on circuit boards that boost computer performance—rose from 39% in 2009 to 50% last year, according to market tracker DRAMeXchange.
Total DRAM sales last year were $9.5 billion, putting Kingston's stake of the market at $4.8 billion.
Kingston had total 2010 sales of $6.5 billion, up from $4.1 billion in 2009.
The rest of Kingston's revenue comes from flash memory products, including thumb drives and storage cards for cameras, cell phones and computers.
"Our company was able to take advantage of an improving global economy as well as catch some lucky breaks to achieve our best sales year ever in 2010," said David Sun, Kingston cofounder and chief operating officer.
The computer memory market saw a rebound in 2010 as prices for memory chips rose following a slump.
DRAM sales rose 54% last year, according to DRAMeXchange.
Kingston grabbed the lion's share of the market's growth as its DRAM sales rose 95% last year, or nearly twice as fast as the overall market.
Taiwan's Adata Technology Co. ranked a distant No. 2 after Kingston. It saw its DRAM market share drop to 7.9% last year from 8.5% in 2009.
China's Ramaxel Technology Ltd. ranked third at 7.7%.
Tempered Growth
Kingston is likely to hold its DRAM lead but is bracing for more tempered growth this year.
The company expects a "solid" year with some new products but is "extremely unlikely to meet the same sort of revenue" as 2010, said Mark Leathem, vice president of corporate marketing.
This year is shaping up different as manufacturers deal with rising costs for memory chips and supply uncertainties stemming from the Japan earthquake and tsunami in March.