REAL ESTATE: LOANS MADE FOR BIG 2008 OFFICE PORTFOLIO BUY
KBS, Other Lenders See Loans Defaulted
Sunday, May 29, 2011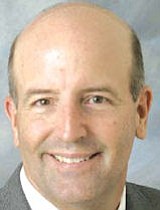 A half-billion-dollar real estate loan made by an affiliate of Newport Beach's KBS Realty Advisors is in default and could see KBS or others take over a portfolio of bank and small office buildings through foreclosure.
In early May, New York-based real estate investment trust Gram-ercy Capital Corp. said its lenders, which include KBS, are expected to take back much of the portfolio after Gramercy failed to pay off $790 million in loans that just came due.
The loans, a $240.5 million mortgage and $549.7 million in senior and junior debt, are tied to Gramercy's $3.3 billion acquisition of American Financial Realty Trust in 2008.
KBS holds about $450 million of the secondary debt.
Gramercy's acquisition of American Financial—made as commercial real estate values across the country were in decline—gave Gramercy ownership of office buildings, bank branches, call centers, land and parking structures. The properties total close to 25 million square feet in all.
Only one is in Orange County: a 3,000-square-foot building in Newport Beach.
Most of the buildings bought in the acquisition were offices and bank branches used by Bank of America Corp. and Wachovia Bank, now part of Wells Fargo & Co.
A change in ownership is expected soon for the portfolio.
Orderly Transition
As the loans went delinquent in early May, Gramercy said in a statement it expected an "orderly transition of all or substantially all of" the portfolio to its lenders. In addition to KBS, lenders include Goldman Sachs Mortgage Co., part of Goldman Sachs Group Inc., Citigroup Inc.'s Citicorp North America Inc. and SL Green Realty Corp.
KBS, which has one of the largest financial stakes in the Gramercy portfolio, hasn't disclosed what plans it expects to make regarding the portfolio, or whether it plans to be the one to foreclose on the properties.
Chief Executive Charles Schreiber last week confirmed his company's involvement in the Gramercy loan but declined to discuss what the resolution might be.
The company bought a $500 million senior mezzanine loan tied to the Gramercy properties in 2008 through its KBS Real Estate Investment Trust fund.
The mezzanine loan now totals about $459 million, and represents about 12% of KBS REIT's revenue and more than 80% of its interest income from loans receivable, according to filings with the Securities and Exchange Commission. The trust saw about $245 million in revenue last year.
Aggressive Strategy
KBS' Big 2010 Buys
• $655 million for Chicago's 300 N. LaSalle Drive
• $208 million for L.A.'s Union Bank Plaza
• $150 million buy of Denver's Granite Tower
• $115 million for National Tower in Louisville, Ky.
Prev Next