Home in Laguna's Three Arch Bay Sells for $6 Million
SOUTH LAGUNA NEIGHBORHOOD HOME TO HOLLYWOOD TYPES
Sunday, May 29, 2011
Share this article: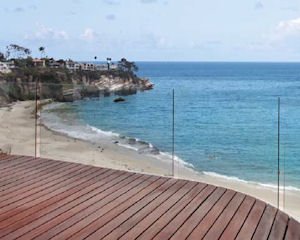 Agent John Stanaland recently sold a $6 million home in the Three Arch Bay neighborhood of Laguna Beach, known for movie stars, producers and other entertainment types who have lived there.
The home at 4 Mar Vista Lane was the seller's second home. The seller now lives in a larger home in North Laguna.
The buyer moved from the San Juan Capistrano area, Hom Real Estate Group's Stanaland said.
"They wanted to be on the water," he said.
Another Hom agent, Karan Masters, represented the undisclosed buyer.
The waterfront market is up so far this year, according to Stanaland.
"There's a lot of distress in the market, but there's also some very positive signs," he said.
Stanaland had the listing for about nine months.
The home originally was listed in early 2010 for $7.2 million.
In the 1920s, movie producer and director Edward Griffith built a home in Three Arch Bay. Griffith lived there with his actress wife America Chedister until his death, according to Steve Turnbull, who runs a website called light-headed.com, which details the history of Three Arch Bay.
Sterling Holloway, actor and voice of Winnie the Pooh and the narrator for the TV show "Moonlighting," lived at Three Arch Bay.
Turnbull describes Three Arch Bay like this: "We are a very close-knit community of many different types of people—businessmen, artists, doctors, musicians, lawyers, judges, movie stars, surfers, poets and priests—who all share a love of sun, sand, family and life."
Three Arch Bay spans 120 acres. Most of its streets have Spanish names, including Mar Vista, which means ocean view.
The current 3,150-square-foot home was built and designed by Laguna Beach-based Gallo Builders Inc., Harte Brownlee & Associates Interior Design, also of Laguna, and Newport Beach-based Brion Jeannette Architecture.
Architect Brion Jeannette is known for designing one of the priciest homes in Orange County—the Portabello estate in Corona del Mar.
McMonigle Fallout
Luxury home brokerages are picking up listings and agents in the wake of John McMonigle's personal filing for Chapter 7 bankruptcy protection in April.
Hom Real Estate Group has added former McMonigle agents Kathryn White and John Cain. Both were top agents for McMonigle.
Cain had nearly $70 million worth of deals in 2010.

White represented Bill Gross, cofounder of Newport Beach-based Pacific Investment Management Co., in his 2009 purchase of an 11,000-square-foot home on the bay of Newport Beach's exclusive Harbor Island. Gross leveled the home and plans to rebuild there.
Former McMonigle agent Chris Sirianni recently joined Stanaland's Laguna Beach-based Stanaland Group, part of Hom.
One of Stanaland's recent sales was a former McMonigle listing at 29 Strand Beach Drive in Dana Point, which closed at $14.1 million.
Stanaland picked it up about three months ago. He said he was called and interviewed for the listing.
McMonigle had the listing for a couple of years.
McMonigle's Newport Beach-based McMonigle Group Inc. has not filed bankruptcy. He cited "an ongoing stalemate with uncooperative lenders" as the reason for his personal filing.
McMonigle is trying to head off foreclosure on Villa del Lago, a 12.5-acre estate at 1 Pelican Hill Road North being built by him in Newport Coast. His funding for the project was cut off last year. The unfinished estate is listed at $37 million.
McMonigle Group once was an affiliate of Coldwell Banker. McMonigle went independent late last year.
Surterre Update
Newport Beach-based Surterre Properties Inc. attributes some of its recent sales to McMonigle listings, former and otherwise.
For the first four months of 2011, Surterre had $300 million in deals with an average sale of $1.3 million.
In March, half of Surterre's closings were $4 million and up, according to the brokerage.
Surterre has hired real estate veteran Tom Iovenitti to head up business development.

Iovenitti is former president and chief operating officer of Coldwell Banker Residential Brokerage's Orange County and Coachella Valley areas.
Iovenitti is charged with opening a Surterre office in Dana Point's Monarch Beach in June as well as looking at possible expansion sites throughout the state and other cities across the U.S.
Surterre has offices in Newport Beach, Corona del Mar, Laguna Beach and Ladera Ranch. The company recently signed a $4.5 million, six-year lease at its nearly 20,000-square-foot Newport Beach headquarters.