HEALTHCARE: QUALITY CONTROL KEY; DEVICE HAS INDUSTRY ATTENTION
Cameron's $107M Plan: FDA Trial, Manufacturing
Sunday, May 29, 2011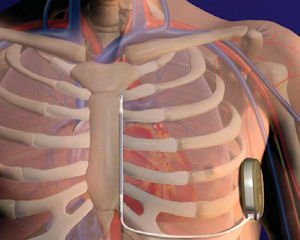 San Clemente-based heart device maker Cameron Health Inc. plans to use $107 million from a recent round of venture capital to complete a U.S. clinical trial, boost overseas sales and expand manufacturing here.
Cameron's sole product is an implantable heart defibrillator.
The company now has raised nearly $200 million in financing, with the latest round led by Palo Alto's Alloy Ventures and Delphi Ventures of Menlo Park.
It's getting ready to start a 335-patient trial and intends to submit data to the Food and Drug Administration in early 2012, Chief Executive Kevin Hykes said.
"It's the most rigorous type of trial as the patients, on average, are to be followed six months to a year," Hykes said. The device "literally protects people from death."
Cameron's defibrillator is implanted under the skin and provides an electric shock to interrupt potentially fatal rhythms during heart attacks.
It differs from others because it operates without electric lead wires within a patient's veins. Instead, it directly links to the heart, lessening the risk of fractures and scar tissue.
If Cameron submits trial data to regulators in early 2012, Hykes estimated that a decision could come down in "the back half of 2013."
"We have a pretty good head start on anyone with anything remotely close to it, (so) we have some advantage in even a tough fund raising environment because it's an interesting opportunity," Hykes said.
The device maker now has no U.S. revenue. It expects full-year sales of $10 million to $12 million in Europe, where the device is approved.
Hykes is a former executive with Medtronic and Visiogen Inc., an Irvine eye device maker that's now part of Abbott Laboratories of the Chicago area. He joined Cameron in early 2010.
The company "has sort of burst onto the scene—we've really come out of nine years of intense R&D effort, very much in stealth mode in Southern California," Hykes said in an earlier interview.
Made Here
When Cameron expands manufacturing, it will remain in San Clemente "for lots of reasons, not the least of which (is) the quality control aspect," Hykes said. "The devices have to work or people die."
Cameron is on the radar of big medical device makers, including Natick, Mass.-based Boston Scientific Corp., an investor that has the right to buy the company. Its name also has been linked to St. Jude Medical Inc. of St. Paul, Minn., and Minneapolis-based Medtronic Inc.
Prev Next