Business Journal Honors Local Woman Execs at Yearly Event
Sunday, May 29, 2011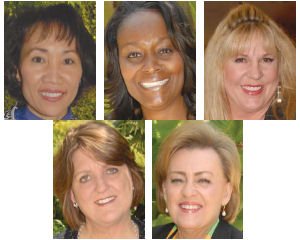 Katherine Le, president of Santa Ana-based Stearns Lending Inc., and four other local businesswomen were honored Wednesday at the Business Journal's 17th annual Women in Business awards luncheon in Irvine.
This year's event, held at the Hyatt Regency in Irvine, counted more than 750 attendees.
Le, who runs the second largest independent mortgage lender in the state, was recognized as one of Orange County's most prominent female executives.
Stearns Lending has seen record growth in the past few years, despite a still tough real estate market.
Under Le's leadership, the company has grown to $250 million in yearly revenue and more than 1,000 employees.
Le's personal story is compelling: as a child she was captured with her family attempting to escape the communist regime in Vietnam after the war.
She eventually made her way to Southern California, where she attended California State University, Fullerton, and got a bachelor's degree in business management.

She is active in charities, including helping found Hope Today, a nonprofit that helps poor people in Vietnam.
Other Honorees
n Scharrell Talley Jackson, chief financial and administrative officer of Newport Beach's Squar, Milner, Peterson, Miranda & Williamson LLP. Jackson is involved in a number of local charities, including Human Options and Girls Inc.
n Belinda Bain, president of Santa Ana's California Hazardous Services Inc. Bain recently branched into new territory by cofounding Action Zipline Tours in the Inland Empire.
n Julie Hudash, founder and chief executive of Irvine nonprofit Team Kids Inc. Team Kids started 10 years ago in Hudash's garage and has raised and donated nearly $300,000 since 2001.
n Carol Taylor, president of Vanguard University in Costa Mesa. Taylor was named acting president of the Christian college in 2009 and has led efforts to turn the school around after it nearly lost accreditation from the Western Association of Colleges and Schools.
Terri Sjodin, principal and founder of Sjodin Communications in Newport Beach, was this year's keynote speaker.
Sjodin, a self-described "local kid," grew up in Fountain Valley and said big dreams combined with hard work, perseverance and good presentation are the keys to success.

For Sjodin, perseverance was especially important as she struggled to start her business.
"In the early days it was not easy to get things started," Sjodin said. "I have had moments I can look back on with pride and I've had days when I wish I could have done things differently. And it's true—there were days when I did date for food."