APPAREL: LOLLI BEACH'S SUITS PAIR BOWS, RUFFLES WITH SEXY CUTS
Brea Designer, 29, Creates Buzz With Her Line of Swimsuits
Sunday, May 29, 2011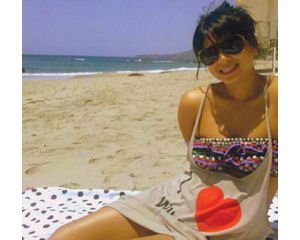 The snow cone bow bottom—in every color—is doing well, Thomas said. Harper's also is the only store to carry Lollibikinis, swimsuits for toddlers and girls, according to Thomas.
Women "love the big bows," she said. The swimsuits are "super fun."
Nguyen also sells her swimsuits through online retailers, such as swell.com, as well as on her own website, ilovelolli.com.
"Selling online is good for me," Nguyen said. "I get a lot of press through it, and it's easier for me to reach fans who are not in California."
Lolli Beach suits sell for about $150.
It's still too early to determine sales for the company. Nguyen said she's doing well despite a tough economy.
Next up: the Miami Swim & Lingerie Show in July.
Nguyen, whose parents immigrated here from Vietnam, said she spent about $5,000 to start her business. She since has invested more, she said.
Nguyen handles everything for the company: sales, marketing, designs and so on. She eventually would like to branch out to include accessories, such as sunglasses, themed around the beach and her swimwear.

Nguyen said she's at a breaking point now, struggling to have enough time to do everything.
She is looking for sales reps to help her swimsuits get into other markets. But they're not always easy to find.
"I need someone to be motivated, to do it like I am," she said.
Gomez is a former Business Journal editor and freelance writer based in Long Beach.
Prev Next