APPAREL: LOLLI BEACH'S SUITS PAIR BOWS, RUFFLES WITH SEXY CUTS
Brea Designer, 29, Creates Buzz With Her Line of Swimsuits
Sunday, May 29, 2011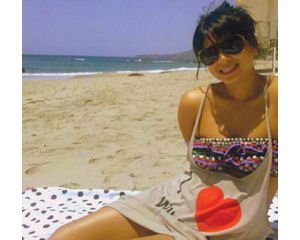 Vy Nguyen, the 29-year-old who started swimsuit designer Lolli Beach Candy out of her house in Brea, draws inspiration from her two favorite things: childhood and sweets.
"I like playful swimsuits," Nguyen said. "Things with ruffles and other trim, bright colors, but with sexy cuts."
Nguyen, whose background is in fashion, started designing swimsuits last year after being laid off as a buyer for a small Laguna Beach boutique.
Her obsession with swimsuits started early, she said. Growing up in Southern California, she spent summers in the pool or at the beach.
Nguyen's suits are colorful—bright yellows, oranges and pinks—with trims such as ruffles and bows. They come in sexy, bold cuts, offsetting their cutesy look.

Women's swimwear has held up during the tough retail market of the past few years. Sales are expected to hit $2.6 billion for the 12 months through March, up 1.8% from a year earlier, according to Port Washington, N.Y.-based NPD Group Inc., a consumer market research company.
Lolli Beach is part of a contingent of swimsuit companies here, including Tustin's Raj Manufacturing Inc., Manhattan Beachwear Inc. in Cypress, L*Space by Monica Wise in Irvine and newbie Mikoh Swimwear in San Clemente.
Big apparel makers such as Huntington Beach-based Quiksilver Inc., Irvine-based Billabong USA and others here also make swimsuits.
Broad Appeal
Nguyen's designs are targeted at 18- to 35-year-olds and also appeal to older women, she said.
"The one-pieces really appeal to moms and sometimes grandmas, too," Nguyen said.
Lolli Beach is small and has gained mentions in Nylon and Seventeen magazines, which have helped spur sales.
Nguyen started off with about eight swimsuit styles in various colors and prints, mostly two pieces.
"I only had one one-piece my first year," she said.
Nguyen's since designed two one-pieces and about 10 bikinis. She's also made a beach blanket.

Next year, Nguyen plans to add beach bags and cover-ups. She's working on that line now.
Her products are made at a factory in Los Angeles. About 200 to 300 swimsuits are made at a time.
The swimwear is sold throughout Southern California with a heavy presence in Orange County, at shops such as American Rag Cie in Los Angeles and Fashion Island, Harper's in Corona del Mar and H. Lorenzo and G. Marie, both in Laguna Beach.
Harper's has been carrying the line since its inception, store owner Erica Thomas said.
"We are a pop-up store for Lolli," she said. "We carry every style of the line."
Prev Next