REAL ESTATE: HOUSING PLANS FOR RANCHO MISSION VIEJO LAND
Big Land Owner Courts Builders
Sunday, May 29, 2011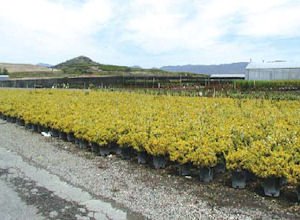 Rancho Mission Viejo LLC, the second-largest Orange County land owner, is planning to dip back into homebuilding after shelving development during the recession.
The land development and real estate company, owned by the Moiso and O'Neill families, has contacted more than 20 builders about starting up a 1,200-home project along Ortega Highway in eastern South County.
The project would include about 900 market-rate houses and 300 houses for seniors.
So far, three builders have been selected to work on the project, according to company officials: Irvine's Standard Pacific Corp., Walnut's Shea Homes and Bloomfield, Mich.-based Pulte Homes Inc.
Timeline
A timeline for construction hasn't been set and depends on market conditions and builder interest, according to Donald Vodra, chief operating officer for Rancho Mission Viejo.
In a best-case scenario, grading for the project could start this summer with possible construction starting in 2012.
A 2013 opening is possible for the first of the homes, according to Vodra.
Vodra spoke last week on a real estate panel hosted by the University of California, Irvine's Paul Merage School of Business Center for Real Estate.
Homebuilder interest has been strong for the project, with four to six builders vying for each land parcel, according to Vodra.
Sources not directly involved in the land deals expect additional builders to be brought on by the developer for the initial 1,200 homes or later phases of construction on company land.
The 1,200 homes are seen as the first stage of a proposed 14,000-home development that Rancho Mission Viejo's been working on for the better part of a decade.
The project eventually could include about 5 million square feet of shops and offices and about 6,000 senior homes.
Prices for Rancho Mission Viejo's land sales haven't been disclosed. Smaller land parcels in South County have been trading for about $1.3 million per acre in deals closing this year.
Standard Pacific and Shea, two local builders, couldn't be reached for comment.
Real estate sources not directly involved said that builders selected by Rancho Mission Viejo are expected to put 20% down. They also said that land prices are based on expectations that values will increase some 10% in the next year or so, when the lot sales actually will close.
South County Record
The 1,200 homes being planned by the land owner aren't too large, based on Rancho Mission Viejo's record in South OC.
The company is behind the creation of the master-planned communities of Mission Viejo, Rancho Santa Margarita, Las Flores, and Ladera Ranch, which in total count tens of thousands of homes.
Prev Next