APPAREL: TRENDY SHOES SOLD ONLINE, AT COASTAL OC BOUTIQUES
Shoe Designer Draws Inspiration From Peru, Recycled Tires
Sunday, May 22, 2011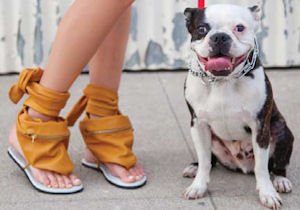 Gabrielle Alexandra Yacoob, founder and creator of G.A.Y. Inc. in Tustin, makes chic shoes out of tires.
It all started when Yacoob visited South America during summer breaks as a University of Southern California student.
Each summer, she'd volunteer at the Mother Teresa Hospice for terminally ill orphans in Peru.
The 24-year-old saw women there wearing old pieces of tires as shoes.
"They're called yankees, and they are literally tires," Yacoob said.
The tire shoes had no support.
So Yacoob said she set out to make a better version and give some of the proceeds to the orphanage.

"I thought I can do this," she said.
That was around 2009. Yacoob officially started her business in 2010.
Early Struggles
There were bumps along the way, according to Yacoob.
"I'd get samples done and have my friends try them out for me," she said. "They'd be like, 'Oh no, these are not going to work.' So there was major trial and error, especially because I'm working with a tire. I'd have to play around with its thickness and make sure the shoe wasn't weighted down by the tire material."
Yacoob tweaked the design so that the outer sole is made of recycled tires that are stripped down through a machine and then flattened by a metal wheel.
A padded sole sits atop the tire sole. From there, Yacoob adds leather straps and such.
The result is a trendy woman's sandal.
"They're like comfort meets luxury," Yacoob said.
The shoes carry names like Fanni Pedi, Boyfriends, Splish Splash and Radical Rach.
Yacoob funded the company herself, spending about $5,000 to $10,000 to start it. Yacoob, who's of a Palestinian and Israeli heritage, said she's since put more money into G.A.Y., a name formed from her initials.
Her spring collection has six styles. All are flat sandals.
They come in various colors and patterns and sell for less than $100 a pair.
New Collection
A fall collection is set to include eight styles, including two closed-toe flats.
Sales are mostly done via her website, gabriellealexandra.com. The shoes also are sold in local boutique Harper's in Corona del Mar.
Harper's has been carrying them for about two months, shop owner Erica Thomas said.
The store carries three styles. Boyfriends in leopard print are a top seller, according to Thomas.
"People think they are cute and unique," she said.
For boutiques, Yacoob takes orders and then delivers the product in a month, she said.
As a small business, "I can't have major stock," Yacoob said.
Early on, it took about three months to make the shoes. Now they can be done in about a month.
Peruvian Junkyard
The shoes are handmade in Peru using tires from a junkyard.
About 10 to 15 workers are employed in Peru. Yacoob runs the rest of the business out of her home in Tustin. She's the only worker here.
Yacoob travels to Peru a couple of times a year, checking out leathers and lining up production.
Next up is the World Association Shoe convention in Las Vegas this summer to show off her fall collection.

As for revenue, it's still early to amount to much.
"I don't focus too much on what I make," Yacoob said. "My goal is in the next year or two to get the word out nationally and get them sold abroad as well."
Gomez is a former Business Journal editor and freelance writer based in Long Beach.