REAL ESTATE: $8.5 MILLION FOR 3.8 ACRES; MORE APARTMENTS LIKELY
Sale Resets Market in Platinum Triangle
Sunday, May 22, 2011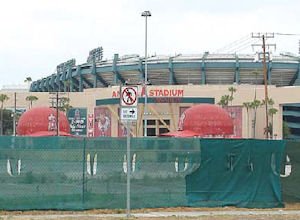 A Newport Beach-based developer snapped up an empty, bank-owned lot near Angel Stadium of Anaheim for a reported $8.5 million in one of the largest land sales the city's Platinum Triangle has seen in several years.
Orangewood Project Owner LLC closed the deal for the 3.8-acre plot at 2211 E. Orangewood Ave. earlier this month.
The site is entitled for about 320 condominiums. It's expected to be turned into apartments. Timing on construction hasn't been disclosed.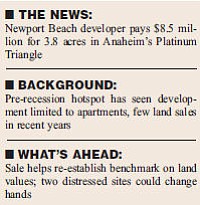 The property, next to the parking lot at Angel Stadium, sold for about $2.2 million per acre.
That's down from $3 million-per-acre deals in the area that were being done at the height of the market around 2007.
It's likely about double what the land was worth a year or two ago, according to local brokers.
Bank Sale
Los Angeles-based Cathay Bank sold the land. The bank took the property back in 2008 after the site's prior developer, Los Angeles-based West Millennium Homes, defaulted on its loans.
West Millennium filed for bankruptcy in 2009.
Cathay had been marketing the site for close to two years, with an initial price closer to $11 million.
The deal is believed to be the first big bank-owned sale of land in the Platinum Triangle, an 840-acre swath of onetime industrial land around the baseball stadium.
The area mostly is in Anaheim and spills over into neighboring Orange.
Developers and city officials considered it a hotspot for high-rise condos, office complexes, shops and entertainment during the real estate boom.
The recession put most of those plans on hold.
About 2,000 apartments have been built in the Platinum Triangle in the past few years, accounting for most of the area's development to date.
Many of the apartments were intended to be condos before the recession hit.
The market for condo projects remains lukewarm. But Orange County's apartment market—including recently built complexes in the Platinum Triangle—has been strong of late.
Capitalization rates—the expected initial return from rents—generally range toward 5% and slightly higher for apartment complexes that are selling in the area, said Jerry Giglio, vice president for the Anaheim office of Santa Ana-based brokerage Grubb & Ellis Co.
That's good for sellers and well below current capitalization rates for most office, industrial and retail properties besides a few higher-end properties that are well-leased.
Recent Deals
Big-dollar deals in the Platinum Triangle that have closed in the past year include Newport Beach-based Irvine Company's purchase of the Gateway complex in Orange, which sold for more than $200 million.
Prev Next