Publishers, Hollywood Take Liking to Laguna Niguel Author's Novels
Sunday, May 22, 2011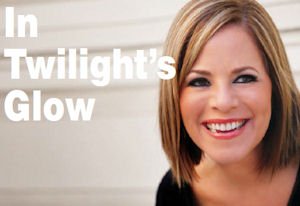 Laguna Niguel resident and author Alyson Noël is helping to fill a seemingly insatiable appetite among publishers and Hollywood producers for young adult novels featuring teens facing the supernatural.
Noël, a contemporary and young adult author, recently struck a deal with Summit Entertain-ment—the studio behind the "Twilight" mo-vies—to turn her "The Immortals" and "Riley Bloom" books into TV series or movies.
The six-book "The Immortals" series follows a young woman who escapes death and returns with the power to read people's thoughts when she touches them.
"Riley Bloom" features a secondary character from the "Immortal" novels.
Summit Entertainment paid six figures for an 18 month option on both series'.
"It's an area of the market that remains big," said Rachel Deahl, a senior news editor at trade publication Publishers Weekly.
Booming Market
"Harry Potter," "Twilight" and now "Hunger Games" all have fueled interest in the young adult and children's market, according to Deahl.
Noël's also sold rights to a contemporary novel, "Fly Me to the Moon," to director Ridley Scott's production company.
Part of the lure for Hollywood and publishers: paranormal or fantasy books appeal to a broad audience.
"About 40% of my readers are adults," Noël said. "I love that these boundaries don't exist anymore, and that the books are just engaging for people who want to read them."
The young adult market is one publishing area where there's still a lot of money being spent, Deahl said.
"There's a lot of high-figure acquisitions being done," she said. "That speaks to the intense popularity of the market."
For Noël, film or TV rights also means better publishing deals. She recently struck a $3 million deal before bonuses with St. Martin Press for a new series, "Soul Seekers," due in 2012.
An Orange County native, Noël grew up in Yorba Linda with little money. She dabbled in college but left to start work.
She's held a number of jobs, including flight attendant.
She became inspired to write "The Immortals" series after losing three loved ones in five months. Shortly after, her husband found out he had leukemia. He's now in remission.
Five years ago, she quit and started writing full time.
"I just couldn't live in the world the same way anymore," Noël said. "I was sort of on a quest to find comfort and answers, and I started reading metaphysical and afterlife books. That's how I got the idea for the 'The Immortals.'"
Prev Next