ADS FOR UPSCALE BRAND GO "ASPIRATIONAL," YOUNGER
MossWarner Fights Frugal Trend in Delsey Campaign
Sunday, May 22, 2011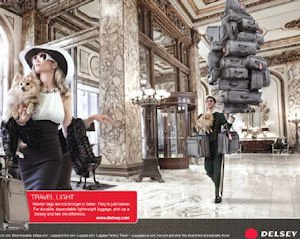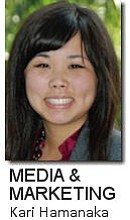 San Juan Capistrano-based advertising agency MossWarner is pushing a return to luxury with a campaign for Maryland's Delsey, the upscale luggage maker's first in three years.
Delsey is the U.S. arm of Paris-based Delsey SA.
The campaign—the first for Delsey by MossWarner—focuses on customers who want luxury goods even if they have to stretch their budgets to buy them. Its main target is travelers 35 to 44 who have yearly household incomes of $75,000 or more.
That's a slightly younger group than Delsey's typical customers, who generally are 45 to 64. The campaign also skews toward women.
Full-page print ads began running this month in magazines.
The budget for the campaign isn't being disclosed.
The campaign's "Travel Light" tagline seeks to reinforce existing opinions of Delsey as a lightweight option compared to other luggage.
Another goal is to shake off shoppers from the frugal spending messages that dominated advertising during the downturn.
MossWarner landed Delsey's account through its purchase of Maryland's Rooftop 360 earlier this year.

MossWarner's San Juan Capistrano office now handles all of Delsey's work.

Nature Valley Advertising
Costa Mesa-based Casanova Pendrill Inc. is expanding work for General Mills Inc.'s Nature Valley granola bars in the Hispanic market.
Casanova Pendrill—part of New York-based Interpublic Group of Cos. and the largest Hispanic advertising agency here—recently launched Nature Valley's first online Hispanic advertising campaign.
"Hispanics are heavy users of digital media and we have been looking at getting the brand involved for a while," Chief Executive Ingrid Otero-Smart said.
The campaign—dubbed "Explora"—includes Web banners on New York-based Univision Communications Inc.'s news site and other websites.
Explora ads are set to direct people to an online game where players have to try and shape a Nature Valley granola bar to match a mountain range in a famous national park.
The game is tied in with the "Shapes" commercial Casanova did for Nature Valley in Spanish. The spot ends with a man holding up a Nature Valley bar in the shape of a mountain range.
Minneapolis-based General Mills doesn't break down sales for each of its brands but recently said Nature Valley helped lead a 14% increase in its U.S. snacks division for the three months through February.
New Accounts, Offices
New work has meant new hires and office openings for some local agencies.
Huntington Beach-based Ocean Media Inc. recently opened an office in Culver City with Executive Vice President Jay Langan heading a staff of 10.

Prev Next