Linksys Fate Unclear in Cisco's Reworking
TECHNOLOGY: SPECULATION ABOUT SALE; CISCO SAYS COMMITTED
Sunday, May 22, 2011
Share this article:
Cisco Systems Inc.'s Irvine-based home networking unit remains a "key part" of the company's strategy amid rumors it plans to sell it in a reworking of its operations.
The consumer unit employs an estimated 400 people in Irvine and designs and markets routers and other devices that let people link household computers and share Internet access.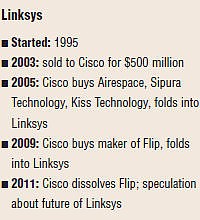 The unit stems from Cisco's 2003 buy of Irvine's Linksys LLC for $500 million. Cisco made several other acquisitions after the deal and then folded them into Linksys.
San Jose-based Cisco already is undoing one of those deals—2009's $590 million buy of San Francisco's Pure Digital Technologies Inc., maker of the handheld Flip video camera.
The company said in April it was shutting down Flip as part of a larger bid to stem a drop-off in profits and regain the company's historical focus on corporate networking.
The move has prompted speculation that Cisco is looking to sell its home networking unit, led by Linksys.
Last week, online technology publication The Register reported that Cisco is in talks on a sale.
The company also is looking to sell its WebEx online videoconferencing unit with moves possible this week, according to The Register.
A Cisco home networking spokeswoman declined to comment on the speculation beyond saying home networking is a "key part of our strategy."
In a statement, the company said it plans to "refocus Cisco's home networking business for greater profitability and connection to the company's core networking infrastructure as the network expands into a video platform in the home."
The unit is looking to boost the role of its routers as part of home entertainment networks that deliver video to TVs, BluRay players and other devices linked to the Internet, according to Cisco.
"Linksys solutions will be the centerpiece of this strategy," Cisco said in a statement.
Local Operations
The Irvine unit is headed by General Manager Brett Wingo, who recently was senior director of product operations for Cisco.
Wingo was unavailable for comment.
More layoffs and changes are likely, according to Kartik Hosanagar, associate professor of information and operations management at The Wharton School of the University of Pennsylvania.
"If you look at reorganizations at these large companies, it's very rare that it happens just once and then everything is hunky dory after that," he said. "Whether it's planned now or not, I think there will be layoffs as the reorganization continues."
Cisco is looking to "dramatically" overhaul its business, Chief Executive John Chambers said on a recent conference call.
The company is looking to free and speed up decision making that's been slowed by years of acquisitions and efforts to get Cisco's various units to work together.
"They've been acquiring so many companies over the last few years—I think it probably reached a point where they probably did too many mergers, too many acquisitions and the company is bloated," Wharton School's Hosanagar said.
Pressure
The company plans to divest or exit businesses beyond the Flip, Chambers said on the conference call.
"There has been pressure on Cisco for quite a few years, but there haven't been significant changes," Hosanagar said. "I think this is an acknowledgement that they needed to have some fundamental changes. They're trying to do that, and that's a good sign."
Cooper is a freelance technology writer based in Irvine.