TRANSPORTATION: CUSTOMS IN NEW TERMINAL; MEXICO NEXT?
JWA Sees Canada Link as Forerunner on International Service
Sunday, May 22, 2011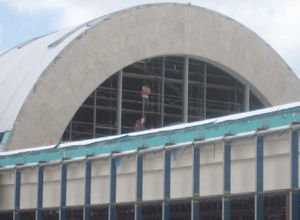 Recent Losses
More international service could help the airport get over losses of international and domestic flights last year.

"We're still recovering from Air Canada leaving last year and then we also had service by Virgin, which left," Wedge said.
Air Canada had offered a daily flight to Toronto at the airport for about six months before leaving last year.
"That route didn't seem to be as popular as we had hoped and they had hoped, so they decided to discontinue service here," Wedge said.
The route to Toronto makes better sense for East Coast markets, Wedge added.
"For WestJet, Vancouver is obviously closer to the West Coast and Calgary is not too much farther away," Wedge said. "It's a two-and-a-half-hour flight rather than five hours, so the distance is much more convenient and appealing to passengers."
Virgin America also left John Wayne a year ago. It had offered five flights from John Wayne to San Francisco, one of the airport's top destinations.
"We already had a number of flights to the Bay Area," Wedge said. "When they came on, it was a pretty saturated market."
Last month, the airport saw a decline in passenger traffic following slight increases in February and March.
The airport's April passenger count fell about 3% from a year earlier, which Wedge attributed to the airport's loss of Air Canada and Virgin.
"We think things are definitely improving in the air travel arena," Wedge said. "With WestJet having just started daily service here and the additional daily flight next month, hopefully that will result in positive increases in passenger levels."
Prev Next