JWA Sees Canada Link as Forerunner on International Service
TRANSPORTATION: CUSTOMS IN NEW TERMINAL; MEXICO NEXT?
Sunday, May 22, 2011
Share this article: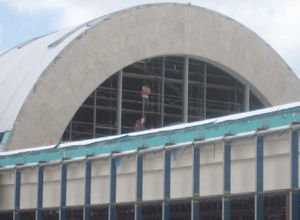 John Wayne Airport is counting on new flights to Canada to boost international service as work on a $543 million expansion nears completion.
Canadian discount airline WestJet began offering daily, nonstop flights between John Wayne and Vancouver earlier this month. It plans to add service to Calgary next month.
They are the only international flights at John Wayne.
Airport and local officials hope the new 282,000-square-foot Terminal C will help draw more international flights and boost passenger traffic after its scheduled opening in November.
"When we finish with Terminal C, we will have U.S. Customs and Border Protection, which means we can accommodate flights from other destinations like Mexico and Central America," said airport spokeswoman Jenny Wedge.
John Wayne is able to accommodate WestJet's flights because regulations allow for customs inspections for travel to and from Canada to be done there.
Airport officials said geographic proximity would make service to Mexico and Central America an attractive market once federal customs officials set up shop at the new terminal. Hispanic immigrants here would likely help make service to those countries attractive.
Plans for service south of the border have yet to take any specific shape, Wedge said.
"We probably will know more closer to November because we are working with all the airlines here to talk about what opportunities they could have to expand their service to those types of destinations," Wedge said.
Expansion
Terminal C is the last of three major projects in the airport's expansion.

Work on a $31 million central utility plant kicked off construction in 2008 and was completed in December.
The $48.5 million Parking Structure C also was completed in December and has room for about 2,000 vehicles.
The expansion is being financed by a combination of revenue from JWA operations, federal grants, bonds and a passenger fee of $4.50 that started in 2006 and will run through 2022, or until it collects $321.4 million.
Other changes also are taking place inside the airport.
In January, Bethesda, Md.-based HMSHost Corp. won a 10-year lease as the airport's primary food and beverage operator, beating out challenger Buffalo, N.Y.-based Delaware North Cos. for the contract.
HMSHost plans to spend $15.6 million to remodel restaurant spaces in Terminal A and B and build new ones in Terminal C.
Among the new restaurants are Irvine-based burger chain Ruby's Diner Inc., Santa Ana-based Jerry's Wood-Fired Dogs, and Tustin-based Zov's Bistro Inc.
Recent Losses
More international service could help the airport get over losses of international and domestic flights last year.

"We're still recovering from Air Canada leaving last year and then we also had service by Virgin, which left," Wedge said.
Air Canada had offered a daily flight to Toronto at the airport for about six months before leaving last year.
"That route didn't seem to be as popular as we had hoped and they had hoped, so they decided to discontinue service here," Wedge said.
The route to Toronto makes better sense for East Coast markets, Wedge added.
"For WestJet, Vancouver is obviously closer to the West Coast and Calgary is not too much farther away," Wedge said. "It's a two-and-a-half-hour flight rather than five hours, so the distance is much more convenient and appealing to passengers."
Virgin America also left John Wayne a year ago. It had offered five flights from John Wayne to San Francisco, one of the airport's top destinations.
"We already had a number of flights to the Bay Area," Wedge said. "When they came on, it was a pretty saturated market."
Last month, the airport saw a decline in passenger traffic following slight increases in February and March.
The airport's April passenger count fell about 3% from a year earlier, which Wedge attributed to the airport's loss of Air Canada and Virgin.
"We think things are definitely improving in the air travel arena," Wedge said. "With WestJet having just started daily service here and the additional daily flight next month, hopefully that will result in positive increases in passenger levels."