EMPLOYMENT UP 2%; ROOM COUNTS UNCHANGED OVER YEAR
Hotel Rate Gains Expected on More Demand, Steady Supply
Sunday, May 22, 2011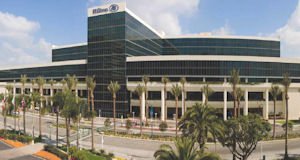 He added that higher rates are "capturing current demand" and will continue to increase this year.
As business picks up steam, a recent gain in hotel hiring also is likely to increase.

The largest hotels here employed 14,381 workers in April, up 2% from a year earlier.
Of the 41 hotels that reported employee headcounts, 10 had an increase from the prior year.
Twelve hotels saw lower totals compared to a year earlier, and about half saw no change in their workforce from a year earlier.

No. 16 Fairmont Newport Beach led hiring with 100 additional workers, bringing its total to 400.
Hilton Anaheim added 77 workers, a 9% increase to 937 employees–—the most of any hotel here.
No. 20 Westin South Coast Plaza cut its workforce by 5% to 190 workers through attrition, according to its area director of sales and marketing Jennie Hoffman.
The Westin's food and beverage business slowly is coming back even as many corporate clients continue to be watchful of their spending.
"Alcoholic beverages got hit the hardest in the corporate segment where companies are still considering this a luxury," Hoffman said.
The Westin now is adding positions, Hoffman said.
"We are seeing rates up year-to-date in the double digits already," Hoffman said. "We anticipate a steady increase in occupancy throughout summer which will create more compression in the market to drive rates."
---
Download the 2011 OC's LARGEST HOTELS list (pdf)
Prev Next