EMPLOYMENT UP 2%; ROOM COUNTS UNCHANGED OVER YEAR
Hotel Rate Gains Expected on More Demand, Steady Supply
Sunday, May 22, 2011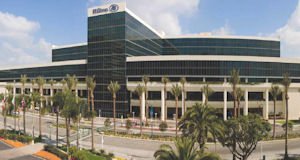 Little has changed for Orange County hotels since last year.
The 51 largest here combine for 21,431 rooms—the same as last year, according to this week's Business Journal list—as hotel construction remains at a near standstill and leisure travel stays lukewarm.
New tourist attractions this summer could heat things up.
The Disneyland Resort's Disney California Adventure in Anaheim has plans to open a Little Mermaid ride June 3, while Disneyland Park is expected to debut a reworked Star Tours ride the same day.
Knott's Berry Farm in Buena Park is set to open its WindSeeker ride this summer (see story, page 4).
An expected increase in demand this summer along with few changes in the total number of rooms at the biggest hotels could mean higher daily rates per room.
The only large hotel development under way is a 155-room Courtyard by Marriott that's expected to open this summer in Santa Ana's Hutton Centre office park.
"There are some encouraging trends as far as increases in (average daily rates) over the past 12 months, but we still see a price-sensitive customer, especially in the leisure segment," said Doug French, director of revenue management at Hilton Anaheim.
Occupancy levels in the county are expected to increase 3.3% this year, according to hospitality research firm PKF Consulting USA. That would take the rate up to 71%.
Revenue per available room here is expected to rise to $86.68, an 8.5% gain from a year ago.
PKF forecasts that hotels here could see average revenue per available room rise to the 2007 level of $94.64 by late next year or early 2013.
Hotels kept their respective spots on the list from last year.
Hilton Anaheim held its top rank with 1,572 rooms, with Anaheim Marriott Hotel holding on to the No. 2 spot.
Of the 31 hotels that reported starting nightly rates, six had increases from a year earlier: No. 12 Hilton Orange County/Costa Mesa; No. 17 Hyatt Regency Newport Beach; No. 25 Anabella Hotel in Anaheim; No. 30 Red Lion Hotel Anaheim; No. 41 Ayres Hotel & Suites Costa Mesa; and No. 45 Doubletree by Hilton Santa Ana/Orange County Airport.
Hilton Orange County reported the highest increase in starting room rates—a $50 jump to $179—in the past 12 months.
"It is about owning the upswing, which is happening," said Hilton Orange County/Costa Mesa Director of Sales and Marketing Michael Mustafa. "It is just not happening as quickly as some experts predicted."
Prev Next