SAN JUAN'S MARBELLA: EXECS, EVENTS, TOUGH COURSE
Exec Club
Sunday, May 22, 2011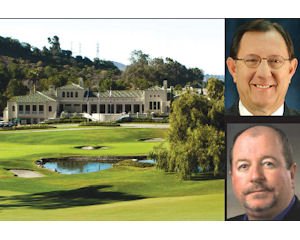 Microsemi Corp.'s Jim Peterson is a competitive guy.
But when he's got his golfing shoes on, he tries to put business aside.
"I try to make it more congenial," said Peterson, chief executive of the Irvine-based chipmaker.
"When I go golfing with friends or other businesspeople, the last thing I want to do is compete against them," he said. "We do that for a living."
Peterson usually golfs as part of a foursome at the private Marbella Country Club in San Juan Capistrano, a stomping ground for local executives.
Microsemi executives from human resources and investor relations are members of the club.
Paul Folino, Microsemi chairman and executive chairman of Costa Mesa-based Emulex Corp., also is a Marbella member.
Others include banker Jay Baumgardner, David Greminger, president of Irvine-based homebuilder Fieldstone Partners California LLC, and Ken Olsen, a broker in Prudential California Realty's Monarch Beach office in Dana Point.
Set behind a guarded gate, the lushly landscaped club spans about 100 acres.
It has all the country club fixings—golf, tennis courts, heated swimming pool and events for members.
Many members also live behind the gate at Marbella, where there are about 350 homes, including 100 condominiums, on another 200 acres.
Broker Olsen built a home at Marbella in 1991. Folino is new to the neighborhood.
Marbella also draws members from the nearby Hunt Club and Stoneridge neighborhoods.
Most of its members either live or work nearby.
A few people trek from Newport Beach and other cities.
One of Marbella's closest competitors is Mission Viejo Country Club.
Marbella is owned by Santa Monica's NGP Realty Sub LP and operated by Santa Monica-based America Golf Corp. Goldman Sachs Group Inc. and Starwood Capital Group own both companies.
Marbella is in a rural setting with an ocean view from atop the golf course.
The 18-hole course, designed by Jay Morrish and Tom Weiskopf, is considered challenging for experienced golfers.
Its rolling fairways have two downhill holes and one uphill hole.
"There are a lot of elevation changes that make it very challenging," Baumgardner said.
Amenities, Events
Marbella's 50,000-square-foot Spanish-style clubhouse has a full kitchen and various rooms for dining and events. It also has a golf and tennis shop and a gym.
On any given day, the club holds events for members, such as pasta night, taco night and happy hour.
The club also rents rooms and the lawn for nonmember events such as weddings.
Prev Next