Costa Mesa Drives Experian's Results
FINANCE: CREDIT SCORES, AUTO DATA DRIVE NORTH AMERICAN HQ
Sunday, May 22, 2011
Share this article: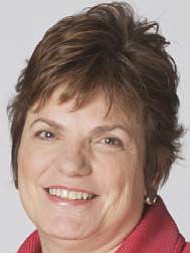 Costa Mesa-based Experian North America, a provider of credit reports and other services, helped spur annual results for British parent Experian PLC.
Experian North America saw sales of nearly $2.3 billion for the 12 months through March, up 9% from a year earlier.
That made up more than half of its parent's $4.2 billion in revenue, which was up 7.6%.
Operating profits before interest and taxes at Experian North America were $610 million, up 7%. That made up 58% of its parent's profit of $679 million, which rose 13%.
"We're a very big part of the overall story of Experian," said Peg Smith, executive vice president of investor relations for Experian North America.
Experian, which has its official headquarters in tax friendly Ireland and its operations base in central England, saw its North American credit services division rebound and its online and automotive information businesses improve here.
"The key drivers included repositioning of our marketing services business ... the introduction of more than 30 new products in the year and our diversification into new vertical markets, including healthcare payment and telecommunications," Experian North America Chief Executive Victor Nichols said.
Experian runs three major North American divisions: interactive, credit services/decision analytics and marketing services.
The company's interactive division, based in Irvine, is its largest unit and includes a handful of online companies that provide credit information, identity theft protection and other services for monthly subscribers.
Notable sites include CreditReport.com and FreeCreditReport.com, known for its catchy commercial jingles.
The company delivers more than 500,000 credit reports monthly in the U.S. and more than 1 million in Britain. It also runs online shopping site pricegrabber.com, which compares prices, availability and features on retail products.
The interactive segment accounted for nearly half of Experian's U.S. sales in the 12 months through March, according to Smith.
The company's credit services unit runs credit checks and scores. Experian's decision analytics unit converts raw data into useable information for businesses.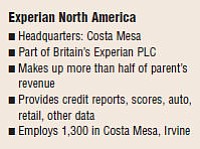 The automotive business provides information for consumers, lenders and auto dealers and makers on vehicle performance and other factors that affect value.
The unit grew by double digits in the past fiscal year as banks began to lend more, Smith said.
"That kind of momentum is coming into other businesses," she said. "That should provide sustainable growth going into this fiscal year."
Another unit, business information services, provides industry reports and competes with New Jersey's Dun & Bradstreet Inc.
Experian's marketing services run email and direct marketing campaigns for companies including American Express Co. and William-Sonoma Inc.
Experian employs about 1,300 people in Costa Mesa and Irvine.