Buena Park Looks to Rebrand, Stand Apart To Draw Visitors
TOURISM: UPGRADES IN WORKS; HAMPTON SUITES FOR OLD MOTELS?
Sunday, May 22, 2011
Share this article: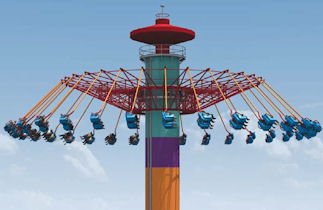 Buena Park officials are aiming to draw more people to the city's entertainment district as they push plans to revitalize the area along Beach Boulevard.
"We'll be able to promote Buena Park and Orange County as a destination," said Sara Copping, executive director of the Buena Park Convention & Visitors Bureau.
The city's entertainment district runs along Beach Boulevard and is centered at La Palma Avenue. It's anchored by Knott's Berry Farm and an adjoining water park, Medieval Times Dinner & Tournament and Pirate's Dinner Adventure.
The area sees about 4.5 million visitors annually, according to the visitors bureau. That pales next to the Disneyland Resort in neighboring Anaheim, which accounted for most of that city's 16 million visitors last year.
Buena Park is looking for gains this summer amid the larger economic rebound. Knott's—part of Ohio's Cedar Fair Entertainment Co.—is set to open a ride called WindSeeker in coming months.
Nearby on Beach Boulevard, a fusion restaurant called Torch is slated to open this week at the site of the former Ripley's Believe It or Not museum.
More Steps
Other plans to revamp the area slowly are moving forward after stalling during the downturn.
"When people come to Buena Park, we're hoping for longer-term stays with Knott's, movie theaters, shopping and the mall," said May Wong Hui, economic development director for Buena Park and deputy executive director of its redevelopment agency.
Revitalization plans are based on a 2008 study by Florida consulting firm Idletime Network Inc., a specialist in themed entertainment.
Buena Park officials now are working with design consultant The Planning Center in Costa Mesa on landscape and other improvements to spiff up the area and help link various attractions.
They're looking for a jump-start in the wake of the recent recession.
"It's been difficult to find developers who have the financing," Hui said. "With entertainment uses, developers have to provide a lot of equity into a project and that has been difficult."
The city recently gave Lewis Operating Corp. in Upland exclusive rights to negotiate a development deal for six former Beach Boulevard motels.
Plans for a 109-room Hampton Inn with a Starbucks and McDonald's nearly are final, Hui said.
The city's redevelopment agency spent $40.6 million to buy the motels, which officials called dilapidated and crime-ridden before demolishing them.
"These motels were bringing, down the area," Hui said.
The city also paid $8.6 million for the 8.5-acre Movieland Wax Museum, which closed in 2005 and was demolished.
There was talk that Rancho Santa Margarita-based John's Incredible Pizza Co. would take the Movieland site, but the chain ended up at Buena Park Downtown.
Minnesota retailer Best Buy Co. also considered a store there.
A Hampton Inn in place of the motels would fall in line with the city's hopes.
The next challenge will be to promote Buena Park as a unique destination.
"We realize that Disney is a huge draw," Hui said. "What we want to do is have an alternative location for visitors. I don't think we're trying to compete with Disney at this point. We just want to bring more visitors."
Past attempts to market Buena Park as an alternative to Anaheim might have gotten lost in cooperative marketing efforts, according to Copping of the visitors bureau.
Local cities long have banded together to promote "The OC" brand through the Orange County Tourism Council and other efforts.
"A lot of our marketing products have piggybacked with Anaheim, so it hasn't helped us grow as a city," Copping said.

Cooperative campaigns with other cities have cut expenses, but they haven't done much to highlight Buena Park on its own, according to Copping.

"Local residents probably understand more about the assets of Buena Park, but when you're speaking with someone from San Francisco or Arizona, they're not familiar with the area or destination," she said. "A world class destination such as Medieval Times gets lumped in with the Anaheim area, and what it does is deter people from staying here in our hotels."
Billboards
The visitors bureau will set out to change that with a new ad campaign set to start next month.
Billboards along the Santa Ana (I-5) and Riverside (91) Freeways will tout the area. A California Welcome Center on Beach Boulevard, a travel planning website and logo for the visitors bureau will debut a month later.
The welcome center is set to work with the California Travel & Tourism Commission and sell discounted tickets to Knott's, Medieval Times and Pirate's Dinner Adventure, as well as to Disneyland Resort and other attractions.
Staffers will hand out brochures, help visitors with last-minute hotel reservations, and sell California-branded merchandise.
"It was time for a refresher," Copping said. "The potential for Buena Park in the next several years is going to be huge and we wanted a good jumping off point."