TOURISM: UPGRADES IN WORKS; HAMPTON SUITES FOR OLD MOTELS?
Buena Park Looks to Rebrand, Stand Apart To Draw Visitors
Sunday, May 22, 2011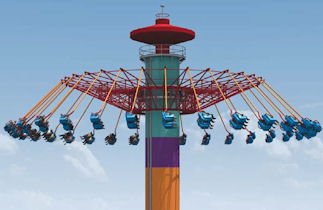 Buena Park officials are aiming to draw more people to the city's entertainment district as they push plans to revitalize the area along Beach Boulevard.
"We'll be able to promote Buena Park and Orange County as a destination," said Sara Copping, executive director of the Buena Park Convention & Visitors Bureau.
The city's entertainment district runs along Beach Boulevard and is centered at La Palma Avenue. It's anchored by Knott's Berry Farm and an adjoining water park, Medieval Times Dinner & Tournament and Pirate's Dinner Adventure.
The area sees about 4.5 million visitors annually, according to the visitors bureau. That pales next to the Disneyland Resort in neighboring Anaheim, which accounted for most of that city's 16 million visitors last year.
Buena Park is looking for gains this summer amid the larger economic rebound. Knott's—part of Ohio's Cedar Fair Entertainment Co.—is set to open a ride called WindSeeker in coming months.
Nearby on Beach Boulevard, a fusion restaurant called Torch is slated to open this week at the site of the former Ripley's Believe It or Not museum.
More Steps
Other plans to revamp the area slowly are moving forward after stalling during the downturn.
"When people come to Buena Park, we're hoping for longer-term stays with Knott's, movie theaters, shopping and the mall," said May Wong Hui, economic development director for Buena Park and deputy executive director of its redevelopment agency.
Revitalization plans are based on a 2008 study by Florida consulting firm Idletime Network Inc., a specialist in themed entertainment.
Buena Park officials now are working with design consultant The Planning Center in Costa Mesa on landscape and other improvements to spiff up the area and help link various attractions.
They're looking for a jump-start in the wake of the recent recession.
"It's been difficult to find developers who have the financing," Hui said. "With entertainment uses, developers have to provide a lot of equity into a project and that has been difficult."
The city recently gave Lewis Operating Corp. in Upland exclusive rights to negotiate a development deal for six former Beach Boulevard motels.
Plans for a 109-room Hampton Inn with a Starbucks and McDonald's nearly are final, Hui said.
The city's redevelopment agency spent $40.6 million to buy the motels, which officials called dilapidated and crime-ridden before demolishing them.
"These motels were bringing, down the area," Hui said.
The city also paid $8.6 million for the 8.5-acre Movieland Wax Museum, which closed in 2005 and was demolished.
Prev Next