DEFENSE: AFGHAN PROJECT SEES ABRUPT CUT; JOBS FALLOUT SEEN
Army's Shift Points to More Cutbacks at Boeing
Sunday, May 22, 2011
The Huntington Beach operation of Chicago-based Boeing Co. is likely to see more job cuts as one of its programs shrinks by about half.
Boeing's Brigade Combat Team Modernization program—designed to upgrade Army communications in combat—is set to slash hundreds of positions nationwide through October.
The program is spread over Huntington Beach and other Boeing sites, including Fort Bliss, Texas, Orlando, Fla., Houston, Philadelphia and Northern Virginia.
Earlier cutbacks hit Huntington Beach last year. The latest round is expected to come sometime this summer as the Army shifts the focus of its communications program and reduces funding.
"We expect to have to reduce our staffing on the program by approximately 50% over the next several months," Boeing spokesman Matthew Billingsley said.
Boeing does not disclose employment figures for programs. Hundreds of layoffs are expected in Huntington Beach and at other sites, Billingsley said.
The company hopes to reassign some employees to other military contracts or future work, he said.
8,000 Workers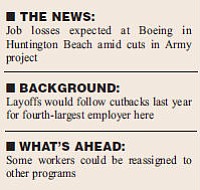 Boeing is Orange County's fourth-largest employer with about 8,000 workers in Huntington Beach, Anaheim, Irvine, Seal Beach and Cypress.
It's seen a drop in local employment of about 5% in the past year with a shift away from work on big-ticket projects. The new focus is on satellites, unmanned planes and other vehicles equipped with communications gear.
Boeing's local workers primarily are engineers. Nearly all of its work here is for the military.
The company is the lead contractor for the Brigade Combat Team Modernization's Increment 1.
The program aims to improve intelligence, reconnaissance, surveillance and communications in combat.
The Army allocated $138 million for the program in early 2010.
Phase One
Boeing started with unmanned ground and aerial vehicles and ground sensors that detect movements by vehicles or people. A communications kit that mounts on a vehicle and allows soldiers to share information from other equipment was a key to the first phase of production.
Boeing late last year delivered unmanned vehicles, ground sensors—some as small as a BlackBerry phone—and a mine-resistant Humvee equipped with the communications kits to troops.
Earlier this year "the Army decided that after those acquisitions were complete Increment 1 would end right there," Billingsley said.
The new equipment and vehicles were useful on the battlefield but weren't what soldiers needed most, according to Army spokesman Paul Mahney.
"They needed connectivity to push information securely while they we're moving," he said.
The Army has stopped further development of an unmanned aerial vehicle and both versions of the ground sensors.
Boeing's main focus now is on refining the communications kits to better integrate information gathered in the field.
Boeing continues to test the kits and expects to deliver updated versions to Afghanistan later this year, according to Mahney.
Army Review
The changes are part of an Army review of its networking and systems integration strategy in Afghanistan, according to Mahney.
Combat brigades deploy for two-year cycles that often don't align with equipment updates, training and delivery, which all are done in Afghanistan.
"It puts an additional burden on unit commanders," Mahney said.
The goal is to align the technology, training and integration before a brigade deploys so they are equipped with the latest communication tools before entering combat.
"It's really a new business approach," Mahney said.
Boeing expects to have a better sense of the local fallout later this year.
"We have to see which work is continuing and which appropriate folks are going to be retained," Billingsley said.