PARTNERSHIP GETS STARTED WITH $10M ON BUYS IN COSTA MESA
Wirta, CT Realty Join Up, Go Coastal for Apartments
Sunday, May 15, 2011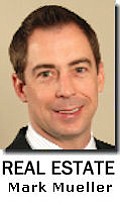 Aliso Viejo-based CT Realty Investors is getting back into buying apartments with the help of one of the area's better-known real estate executives.
CT Realty, which made news in the past year buying a series of large industrial projects in the Inland Empire, announced it's teaming with WLCM LLC—an apartment-focused investment and management company started this year with headquarters listed in San Juan Capistrano.
The partnership's first acquisitions were three mid-sized apartment complexes totaling 55 units in Costa Mesa. It paid about $10 million, or $182,000 per apartment, in deals with private parties.
It's one of the first apartment buys for CT Realty in several years.
The company had a portfolio of close to 6,000 apartments, but sold most of them between 2005 and 2007, near the peak of the last market cycle.
CT Realty and WLCM are expected to buy more apartment communities in Southern California coastal areas.
The goal is to buy 300 to 400 apartments in the Costa Mesa area this year, according to James "Watty" Watson, chief executive at CT Realty.
The two companies have similar plans for other submarkets up and down the coast, he said.
WLCM was started by Chris Lee and Ray Wirta, the former chief executive of Los Angeles-based brokerage CB Richard Ellis Group Inc. who also is a veteran of Koll Co. in Newport Beach.
Watson also spent time at Koll Co., long one of the area's bigger developers.
The Business Journal this month added Wirta to the OC 50, our annual list of heavy hitters in the business community. The distinction owed largely to his appointment last year as a senior advisor at Newport Beach's Irvine Company.
Lee is Wirta's son. The two previously were partners of Silver Oak Multifamily Capital LLC, a Dallas-based apartment investor. They have acquired and renovated apartment projects in other markets in the past several years, according to Lee.
"Our goal is to acquire apartments that require capital improvements and have operating inefficiencies," Lee said.
WLCM will handle the renovations and management of the Costa Mesa apartments—the Beachwood Apartments at 324 Victoria St., the Orange Elden Apartments at 2151 Orange Ave. and the College Avenue Apartments at 2290 College Ave.
Ontario Spec Eyed
Western Realco LLC has snapped up a vacant 30-acre site in Ontario where a speculative industrial project could be built.
The Newport Beach developer made waves here last year with its purchase of a Placentia industrial building that long served as a production facility for Knott's Berry Farm jams and preserves.
Prev Next