Wall Street Shows Concerns, Patience on Avanir's New Drug
HEALTHCARE: ROLLOUT COSTLY, LONG-TERM SALES OUTLOOK $350M
Sunday, May 15, 2011
Share this article: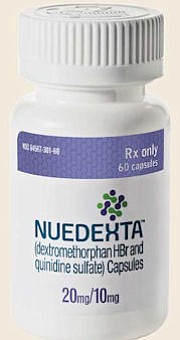 Analysts are maintaing long-term optimism for Avanir Pharmaceuticals Inc.'s core drug despite some early concerns about its performance.
The Aliso Viejo-based drug maker last week reported a $14.5 million net loss for the March quarter—more than double the red ink of a year earlier but less than the $18.2 million loss analysts expected.
Revenue totaled $1.4 million, up 40% from a year earlier. But that was well off Wall Street's expectation of $2.4 million.
Operating expenses more than doubled in the quarter to $15.8 million from $7.4 million.
Much of the added costs were for the February introduction of Avanir's Nuedexta drug for pseudobulbar affect, a rare nervous system disorder characterized by uncontrollable fits of crying or laughing.
The condition is sometimes seen in people with underlying neurological disorders such as multiple sclerosis or strokes.
Nuedexta is the only Food and Drug Administration-approved treatment for pseudobulbar affect.
The drug accounted for about a third of Avanir's revenue in the March quarter, with the rest coming from royalties on other drugs.
Promising Start
Sales of Nuedexta got "off to a promising start as we build and develop a market," said Keith Katkin, the drug maker's chief executive.
Early marketing efforts to educate doctors about pseudobulbar affect are paying off with growing prescriptions for Nuedexta, Katkin said.
About 1,000 new prescriptions came during the six weeks or so between the drug's introduction and the end of March quarter, he said.
That wasn't enough for some investors, who sent Avanir's stock down nearly 10% last week to a market value of about $450 million.
Some analysts cut their sales forecasts for Nuedexta. Others already had trimmed their near-term outlooks for the drug.
Several noted they still expect sales to pick up over the long haul.
Greg Wade, an analyst with Los Angeles-based Wedbush Securities, cut a previous estimate of $1.6 million in Nuedexta sales for the current quarter to $400,000 a few days before Avanir's results were announced.
Wade said he sees gains in the future as efforts to educate doctors continue.
"We believe that physicians are experimenting with Nuedexta therapy on a limited basis and anticipate positive results to lead to broader prescribing," Wade said.
Ritu Baral of Canaccord Genuity, the investment banking arm of Toronto's Canaccord Financial Inc., reiterated a "buy" rating on Avanir.
Baral also raised some concerns about Nuedexta's early performance in a note to clients.
"Nuedexta's launch has been more challenging than we forecast, but we still strongly believe in the drug's ultimate commercial potential and still anticipate peak annual U.S. sales of $350 million and (European) sales of $300 million," Baral wrote.
Pseudobulbar affect occurs in about 1.5 million to 2 million people in the U.S.
Some observers estimate it's underdiagnosed because doctors are unfamiliar with the disorder.
Registry
As part of Avanir's outreach, the company created a patient registry to track the prevalence of pseudobulbar affect and the impact it has on the quality of life of patients with various other neurologic conditions.
Data collected will serve as a basis for continued clinical research on the disease, according to Avanir.
In an article on the Motley Fool website, author Brian Orelli suggested that Avanir faces challenges because pseudobulbar affect "isn't life-threatening."
Uncontrolled crying or laughing is "certainly embarrassing, but there's no immediate need to treat the patient," Orelli said.