Sunwest Expands With Irvine Lease
FINANCE: GROWING BANK GETS HIGH-PROFILE AIRPORT AREA SPACE
Originally published May 15, 2011 at midnight, updated May 17, 2011 at 10:39 a.m.
Share this article: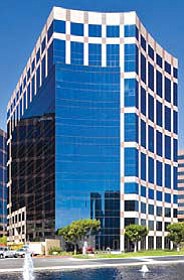 Tustin-based Sunwest Bank, one of the fastest-growing banks here in the past few years, is expanding in Irvine and getting its name atop one of the newer office towers near John Wayne Airport.
Sunwest signed a 35,000-square-foot lease at 2050 Main St., an office building that opened in 2007 in the Irvine Concourse office campus.
The bank is taking the third floor of the 13-story building and plans to open a branch on the first floor.
Sunwest now has 10 branches in Arizona and California, including five in Orange County.
As part of the 10-year lease, the bank's sign is set to go up atop the building, which overlooks the San Diego (I-405) Freeway.
Sunwest plans to move into the Irvine space by September, according to Chief Executive Glenn Gray.
Tustin HQ
The bank is moving most of its operations and executives to Irvine and keeping its headquarters in Tustin.
Initially, about 85 people are set to move from Tustin and other locations to 2050 Main.
Sunwest has been based in Tustin since its 1970 founding and has its headquarters in an increasingly cramped office on 17th Street, a few blocks from the Costa Mesa (55) Freeway.
The expansion is being made in part to give the bank's image a boost and to give Sunwest's employees more room, Gray said.
"We've had great growth the past couple years," he said. "People were working in the aisles" of the Tustin office.
The expansion is "a huge step up," in terms of exposure and building quality for Sunwest, said Jeff Manley, managing principal for the Newport Beach office of tenant brokerage Cresa Partners LLC, which represented Sunwest in the lease.
Sunwest loans money to small and midsize businesses, homeowners and commercial real estate developers and investors.
With some $650 million in assets, Sunwest is the fourth largest commercial bank based in the county, according to the Business Journal's November list.
Sunwest has doubled assets since the end of 2008.
Growth has come from Sunwest itself and from a trio of acquisitions. In 2009, Sunwest took over two failed local banks—San Clemente-based Pacific Coast National Bank and Irvine-based MetroPacific Bank—and another in Arizona.
Sunwest stayed on a conservative course during the 2000s boom, getting out of speculative construction loans in 2005.
"We knew there would be a downturn. We weren't as aggressive as others," Gray said.
When the financial crisis hit in late 2008, Sunwest's loans to deposits were about 65%, compared to 100% at other banks.
The downturn and bank failures brought depositors seeking safety to Sunwest and put the bank in a position to pick up some pieces of the wreckage.
"We were a bit of an anomaly," Gray said.

Sunwest considered moving to Irvine's 2600 Michelson Tower, according to Gray.

2600 Michelson Tower is in receivership and last was owned by Los Angeles-based Maguire Properties Inc., now MPG Office Trust Inc.
New Building
2050 Main has worked through its own financial issues.
Newport Beach-based real estate investor Greenlaw Partners and two backers, New York-based Westbrook Partners LLC and Chicago's Walton Street Capital LLC, paid $56 million for the building in 2009.
The building was acquired from the lenders of its developer—Phoenix-based Opus West Corp., which went bankrupt in 2009—at a steep discount to its construction cost.
The 314,000-square-foot building was about 30% full at the time of the sale. Following the Sunwest lease, the building is set to be about 80% leased.