NEW BOSS: MARKETING KEY TO ENDING BIG SOFTWARE MAKER'S SLUMP
Sage Coach
Sunday, May 15, 2011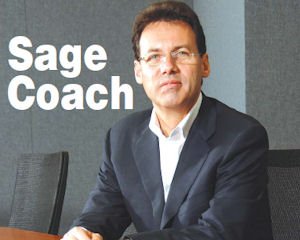 Pascal Houillon wasted little time putting his stamp on Irvine-based Sage Software Inc., the North American headquarters of Britain's Sage Group PLC.
The past four months have seen the Frenchman reshape Sage's executive team and lay out a strategy to boost the company's brand in hopes of getting back to growth.
"We are at the beginning of a new environment at Sage," said Houillon, a 22-year company veteran who most recently ran Sage's Southern Europe division. "The biggest challenge is to realign the mindset of people."
Sage's software streamlines accounting, purchasing, payroll processing and other day-to-day business tasks.
Most of its software is sold through a network of resellers that install the software and provide service to businesses.
Houillon is in charge of the biggest piece of Sage as chief executive of the North American division. It has nearly $1 billion in annual sales, about 40% of its parent's total.
About 3.2 million businesses use Sage products. The company gets about 70% of revenue from subscriptions for software to manage payroll, track expenses and other administrative work, according to Houillon.
The company was hit hard during the downturn as many small-business customers opted to hold off on purchases. Sales largely have been flat for the past few years.
Irvine's Blizzard Entertainment Inc. (see story, page 7)—the top maker of online video games—surpassed Sage as Orange County's biggest software company by sales a few years ago.
Houillon said he aims to break the slump.
Earlier this month, he added executives to oversee four key areas: small-business accounting; mid-markets; specialty divisions; and North American strategy.
The moves are intended to improve customer service, improve relations with resellers and suppliers and streamline decision-making.
"I changed it because most of the people in the executive team were more back-office people," he said. "I wanted to have more business leaders. It's important to have a voice of the customer around the table of the executive team."
Rivals include Intuit Inc. and big players such as Microsoft Corp., Oracle Corp. and SAP AG, which go after large and small businesses.
Sage is trying to deliver more products online and market newer services with growth potential, such as payment management and marketing software.
Those segments currently bring in about $100 million in yearly sales, according to Houillon.
Houillon has spent most of his time in new role learning the North American market and meeting with customers, partners and resellers.
Prev Next